Our sweet raspberry rugelach is tried and true classic that's perfect for every holiday, get together, and simcha. This is a fun dessert to make with the kids (they'll love rolling these up) and it's also a gorgeous dessert to give at the holidays.
The Backstory: Let's be honest: when a Jewish person comes to your house for the holidays and they walk through the door with a white box tied up with baker's string, what's the first thing that goes through your mind? Rugelach, of course. And with good reason–these little rolled cookies are a mainstay in most Jewish homes and they've earned their place at just about every get-together from baby namings to Shabbat dinner to, well, anytime a group of Jews are going to be sharing a meal. The real question is: what kind do you like best?  More of the Backstory after the recipe…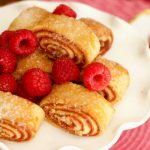 Sweet Raspberry Rugelach
These delicious, classic rolled cookies have a rich cream cheese and butter crust and are filled with a cinnamon sugar and raspberry jam (you can also add mini chocolate chips for an extra pack of goodness). Double the recipe--one batch is never enough!
Ingredients
For the Dough
2

cups

flour

2

tbps.

sugar

1/4

tsp.

Kosher salt

2

sticks unsalted butter, chilled, cut into 1/2 inch pieces

6

oz.

cream cheese, chilled, cut into 1/2 inch pieces
For the filling
1/2

cup

sugar mixed with 1 tsp. of ground cinnamon

12

tbsp,

raspberry jam or preserves

I use Shwartz's Kosher Raspberry Jam

8

tbsp.

mini semi-sweet chocolate chips (optional)

1/3

cup

whipping cream
Instructions
For the Dough
Blend first 3 ingredients in food processor. Add butter and cream cheese and cut in using on/off turns until dough begins to clump together. Gather dough into ball. Divide dough into 4 equal pieces and flatten into disks.




Wrap each disk in plastic and refrigerate for 2 hours. Can be prepared 2 days ahead. Keep refrigerated. Let soften slightly at room temperature before rolling out.
For the Filling & To Make the Rugelach
Line large baking sheets with parchment paper. You will probably need two 2 sheets. Mix sugar and cinnamon in small bowl. Roll out 1 dough disk on floured surface to 9-inch round. Kee

Spread 3 tablespoons of raspberry preserves on dough, leaving 1-inch border. Sprinkle with 2 tablespoons of cinnamon sugar mixture, and 2 tbsp. of chocolate chips (if you are using these). Press filling firmly to adhere to dough.

Cut dough into 8 equal wedges, as if you were slicing a pizza. Starting at wide end of each wedge, roll up tightly. Arrange cookies, tip side down, on prepared baking sheet, spacing 1 1/2 inches apart and bending slightly to form crescents. Repeat the process with the remaining dough disks, preserves, cinnamon sugar mixture and chocolate chips (if using them).

Place baking sheets in freezer for 30 minutes to allow cookies to chill and firm.

Position rack in center of oven and preheat to 375°F. Brush cookies lightly with whipping cream. Bake frozen/cold cookies until golden brown, about 40 minutes. Transfer cookies to racks and cool completely. (Can be made ahead. Store in airtight container at room temperature up to 1 week or freeze up to 1 month.)
As for me, I'm a raspberry or chocolate and cherry rugelach kind of girl, and I have a lot of experience making these (some not so good, as when I torched my first batch because I didn't use parchment paper because I didn't have any, and let's just say they burned to very non-appetizing crisp). So, lesson one when it comes to making rugelach: parchment paper is your best friend! If you don't have parchment paper, wait until you do before going to all the effort of making these cookies. You need the parchment to catch the preserves and jam that will ooze from the rugelach during the baking process and to help the cookies crisp, but not burn on the bottom. Don't bother making them without your trusty  parchment. Aluminum foil, wax paper or a Silpat will not do and don't handle the heat as well.
As for the fillings, you can use just about anything you like and add things as you go: cinnamon, cinnamon sugar, chopped nuts, raisins, dried cherries or cranberries, chopped dried apricots, etc., along with your favorite preserves or jam. For this recipe, I'm using raspberry jam. While I typically don't recommend brands (this post is not being endorsed or sponsored in any way), I'm using Shwartz's (kosher) raspberry jam. I love the taste and smell of this spread–it's exactly like the filling in the jelly doughnuts of my childhood, so I have a particular fondness for it, but you can you use ANY brand you like.
Please follow and like us: