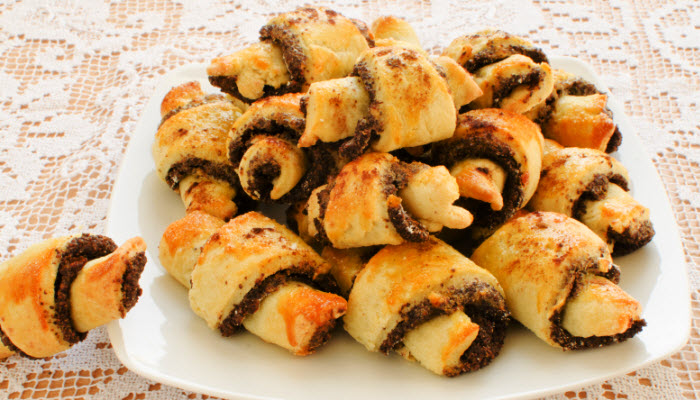 Chocolate Chip and Cherry Rugelach
Who knew that chocolate chip and cherry rugelach could be so sinful? No wonder Jews have been showing up with boxes of it under their arms at every holiday and special occasion!
The Backstory: This is my all-time favorite rugelach recipe. In fact, it's the only rugelach recipe I ever use and for good reason: it's darn near perfect. Years ago, I found the recipe written in what I thought was my grandmother's hand-writing but it turned out it wasn't hers. To this day, I don't know whose recipe it is, but I wish I did so I could say thank you. I cannot count the number of times I have happily copied the recipe and shared it with friends and family. If you take the time to make these cookies. you'll know why everyone asks for it. A few quick notes about the recipe: More of the Backstory after the recipe…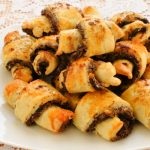 Chocolate Chip and Cherry Rugelach
Moist, flaky dough wraps around a scrumptious filling of chocolate chips, cherry preserves, dried cherries and crunchy chopped walnuts for the perfect, two-bite treat. Rugelach are perfect holiday cookies and look beautiful on a silver tray or platter and make fabulous and most welcome holiday gifts.
Ingredients
2

tbsp.

sugar

1/4

tsp.

Kosher salt

2

sticks

unsalted, chilled butter, cut into 1/2 inch pieces

6

ounces

cream cheese, chilled, cut into 1/2 inch pieces
For the Filling
1/2

cup

sugar

1

tsp.

ground cinnamon

12

tbsp.

cherry preserves

8

tbsp.

dried cherries

8

tbsp.

mini semi-sweet chocolate chips

1/3

cup

whipping cream
Instructions
For the Dough
Blend first 3 ingredients in food processor. Add butter and cream cheese and cut in using on/off turns until dough begins to clump together. Gather dough into ball. Divide dough into 4 equal pieces and flatten into disks.

Wrap each disk in plastic and refrigerate for 2 hours. (Can be prepared 2 days ahead. Keep refrigerated. Let soften slightly at room temperature before rolling out.)
For the Filling
Line large baking sheets with parchment paper. You will probably need two 2 sheets. Mix sugar and cinnamon in small bowl. Roll out 1 dough disk on floured surface to 9-inch round. ,

Spread 3 tablespoons of cherry preserves on dough, leaving 1-inch border. Sprinkle with 2 tablespoons dried cherries, then 2 tablespoons chocolate chips, 2 tablespoons cinnamon sugar and 2 tablespoons walnuts. Press filling firmly to adhere to dough.

Cut each dough circle into 8 equal wedges, as if you were slicing a pizza. Starting at wide end of each wedge, roll up tightly. Arrange cookies, tip side down, on prepared baking sheet, spacing 1 1/2 inches apart and bending slightly to form crescents. Repeat the process with the remaining dough disks, preserves, dried cherries, chocolate chips, cinnamon sugar and walnuts.

Place baking sheets in freezer for 30 minutes to allow cookies to chill and firm.

Position rack in center of oven and preheat to 375°F. Brush cookies lightly with whipping cream. Bake frozen cookies until golden brown, about 40 minutes. Transfer cookies to racks and cool completely. (Can be made ahead. Store in airtight container at room temperature up to 1 week or freeze up to 1 month.)
…The Backstory continues: First: the prep time below says three hours, but don't let that turn you off–it's misleading. Two hours of this time is for the dough to chill in the frigde and another half hour is spent allowing the cookies to set up in the freezer (to firm up a bit) before baking. It will not take you three hours of work to make rugelach. As with many wonderful baked goods recipes, there simply is some down time, while the dough does its work, so fear not. But by the same token, please don't skip the 30 minutes of freezer time to allow the cookies to set up before baking and just pop them in the oven. Those 30 minutes truly do do help the cookies keep their shape (I've experimented with it both ways) and it's worth investing in this half hour to get the job done right. Clean up the kitchen, unload the dishwasher, phone a friend, but allow those 30 minutes to do their job.
Also, parchment paper is your best friend when making rugelach. If you don't have parchment paper, wait until you do before going to all the effort of making these cookies. You need the parchment to catch the preserves and jam that will ooze from the rugelach during the baking process and to help the cookies crisp, but not burn on the bottom. Don't bother making them without your trusty  parchment. Aluminum foil, wax paper or a Silpat will not do. (Been there, tried them all and have failed miserably).
Other than these two points,  these are really fun to make (rolling up the rugelach is actually quite therapeutic) but the very best part comes when you and your guests bite into one of these sinfully delicious treats. The combination of the cherry preserves, chocolate chips, crunchy walnuts and chewy dried cherries coupled with the rich crust is almost too much to handle.
Sinful, sinful, and, dare I say, extremely sinful. Like a nice Jewish girl should be.
Enjoy.
Please follow and like us: