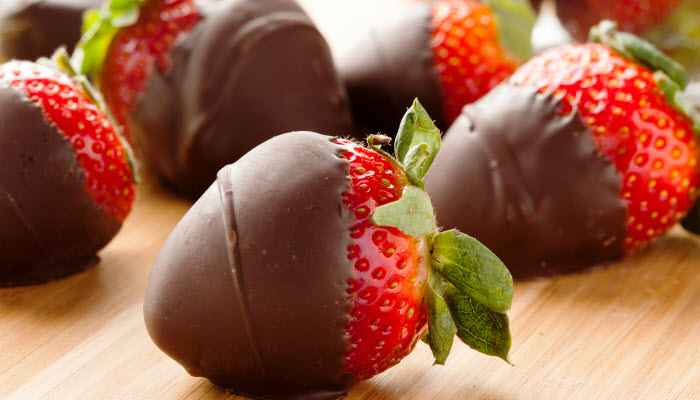 Chocolate Covered Strawberries
Chocolate and fruit are a marriage made in heaven.
The Backstory: Chocolate-covered strawberries are one of the easiest, most elegant, and definitely one of the most romantic desserts, hands down. They also take just minutes to make, with a few simple steps and two key ingredients: fresh strawberries and quality chocolate. More of the Backstory after the recipe…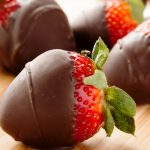 Chocolate-Covered Strawberries
Plump, ripe strawberries are dipped in chocolate and cooled for the ultimate romantic dessert.
Ingredients
12

long stem strawberries

1

cup

semi-sweet chocolate chips
Instructions
Wash and completely dry strawberries. If you have additional time, allow berries to sit on paper towel for 10 minutes to make sure all water has been removed and berries are completely dry.

Line a baking sheet or a large, flat platter with a silpat mat or wax paper.

Fill the bottom of a double-boiler or saucepan with an inch or two of water. Bring the water to a simmer over medium-high heat. Transfer the chocolate into the top of the double-boiler or into a heatproof bowl and set this over the simmering water.

Melt chocolate until there aren't any lumps, stirring occasionally with a spatula. Remove bowl from heat and place on a kitchen towel under the bowl, wherever you will be dipping the strawberries.

Carefully dip each strawberry into the chocolate and let the excess chocolate drip back into the bowl. Place each berry onto the baking pan to allow the chocolate to harden. Repeat until all berries have been dipped.

If you wish to add nuts, coconut or sprinkles to your dipped berries, immediately dip them into a bowl with any of these, immediately after the excess chocolate drips off, then place on baking sheet.

Note: You can speed up the hardening process by placing your dipped berries in the refrigerator to chill.
…The Backstory continues: The only tip for ensuring that your chocolate-covered strawberries come out perfectly each time is to make sure that your berries are dry before you dip them into the melted chocolate. Dipping wet or damp berries into melted chocolate doesn't work well as the chocolate will not adhere to the berry and sometimes, might even seize up. So, after you wash the berries, I recommend letting them air dry for 10 minutes or so on a paper towel, to make certain all the moisture is gone and that they are really dry and ready for dipping.
After that, dip away! Store leftovers (if there are any…good luck with that) in the fridge. These are truly amazing. You can dip bananas, oranges, marshmallows, and just about any fruit, cookie or other sweet edible your heart desires with the same method described below.
Please follow and like us: