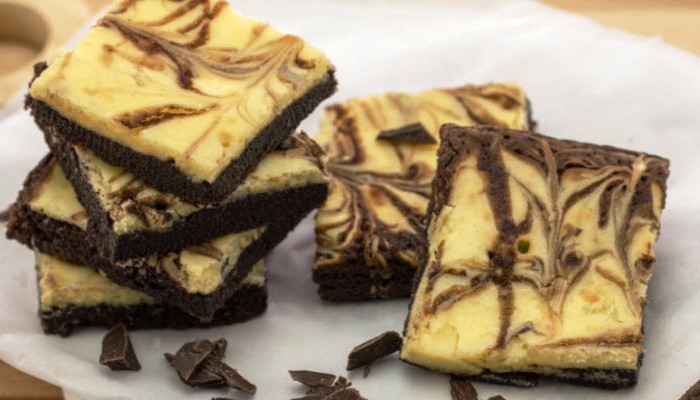 These are the best cream cheese brownies I've ever made. They're rich, decadent, and the ultimate chocolaty treat for the brownie lovers in your life.
The Backstory: I honestly don't have the words for my father's expression when he first bit into one of these cream cheese brownies. I've told you the history before: My family had a bagel bakery. I grew up working in the bakery with him and lived to create baked goods and confections that would bring him to his knees. More of the Backstory after the recipe…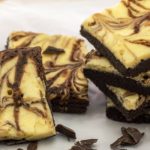 Cream Cheese Brownies
Sinfully rich and creamy fudgy brownies unite with a cheesecake layer to form the perfect union in this deeply satisfying dessert. Serve alone or for an even more decadent treat, with a scoop of vanilla ice cream.
Total Time
1
hour
5
minutes
Servings
9
large brownies
Ingredients
For the Brownie Layer
1

cup

butter or margarine

4

squares

unsweetened chocolate

2

cups

sugar

3

eggs

1

cup

all-purpose flour

1/2

tsp.

Kosher salt

1

tsp.

pure vanilla extract
For the Cream Cheese Layer
1

8 ounce

block of cream cheese, at room temperature

1/2

cup

sugar

1

egg

1

tsp.

pure vanilla extract
Instructions
Preheat oven to 350 degrees. Grease a 9 x 13 baking pan.

In a 2 quart heavy saucepan over low heat, melt the butter and chocolate. Use a wire whisk or spoon to beat in 3 eggs and 2 cups of sugar until all of the ingredients are well combined.

Use a wooden spoon to stir in the flour, salt and 1 teaspoon of vanilla extract. Pour mixture evenly in the pan and set aside.

With electric mixer on low speed, beat the cream cheese, 1/2 cup of sugar, 1 egg and 1 teaspoon of vanilla until just combined. Increase speed to medium and continue to beat for another two minutes. Scrape the bowl occasionally with a rubber spatula. The mixture should have thickened.

With a large spoon, drop spoonfuls of the batter on top of the brownie layer. Use the tip of a sharp knife to lightly score the surface in a swirly pattern so the two batters combine slightly.

Bake for 40-45 minutes until a toothpick inserted in the middle comes out clean. Cool on rack for 20 minutes and then refrigerate for an hour. Cut into bars. Refrigerate leftovers.
My dad had a sweet tooth which he passed down to me (thanks, Dad, for the years of yo-yo dieting!)
…The Backstory continues: Here's the deal: these brownies are insanely good. I've grown up with brownies, and as I've said by way of introduction, and as the three sizes in my closet can confirm, I know my way around a bakery. Once you make these, you will never look for another cream cheese brownie recipe. They are 100% perfection.
I have a theory about how cream cheese found its way to brownies and it starts with bagels. The title "cream cheese brownies" doesn't sound that appetizing, but as all bakers (and consumers of baked goods know), this really means that this is a cheesecake brownie. They should be called cheesecake brownies. I'm not sure why they're not. But I digress.
Cream cheese and Jews have a long history. We need to shmear it on things. Bagels, bialys, even rye bread, although I find the latter a little on the not-so-appealing side. So why not move our love for cream cheese to pastry and other baked goods? In some crazy way, it must have made sense and so cream cheese found its way into baked goods, like cheesecake, where we all know it absolutely belongs. Now cheesecakes are absolutely gifts from God (culinary or otherwise) but it's not so handy or convenient to carry an entire cheesecake around in case of a snack emergency (nor would it fit in a purse without completely destroying the lining…not that I've tried), and so some brilliant Jewish baker obviously had a stroke of genius (or so his or her mother said so) and thought "Ah ha! I'll make it portable!" and thus, the handheld, cream cheese brownie was born.
Note to readers: don't think too much about how my mind works. You'll lose your appetite.
But now, a very important tip about the recipe. Depending upon how you  look at it, it concerns either serving or consumption. Let's go with consumption:
After you remove the brownies from the oven, let them cool on the counter for about 20 minutes and then put them in the fridge to cool for an hour before slicing them. I realize that this significantly delays gratification but they need to be completely cooled before you cut into them or you will have very rough edges and pull up the bottom brownie layer with your knife (they are that fudgy and moist).
Unless of course, you are making this recipe to dive into a tray of warm brownies (and God knows, we've all been there, done that binge), and by all means, just go for it. But if you are looking to slice them cleanly with a nice edge, they do need to sufficiently chill so that the brownie layer and cream cheese layer can firm up. It will be difficult to wait it out, but your patience with be rewarded.
I'm smiling as I write this knowing how much you are (really) going to love me. I think it's called gloating.
Please follow and like us: