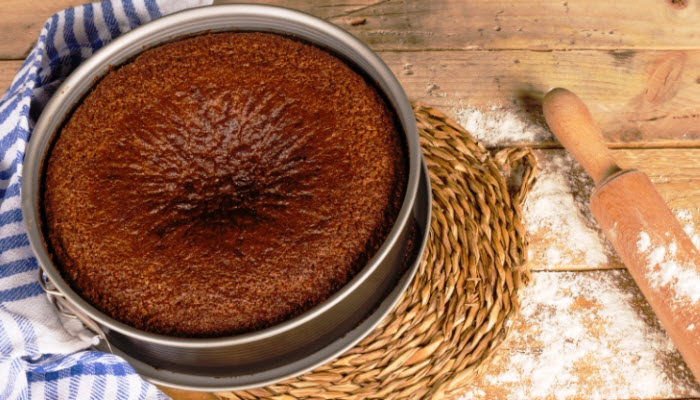 Honey and fall spices are delicious. Don't forget the coffee and cinnamon ice cream.
The Backstory: Honey Cake is a traditional dessert that is served at Rosh Hashanah to symbolize the promise and hope for a sweet new year. The trouble is (and I'll go out on a limb and say it here), I think that honey cake is often overlooked as a boring, old-fashioned dessert and doesn't get its due. More of the Backstory after the recipe…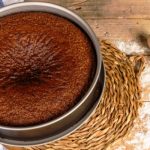 Honey Cake
Rosh Hashanah's favorite dessert gets its sweetness from golden honey and it's depth of flavor from fall spices like cinnamon and allspice. Serve with cinnamon ice cream for an especially decadent start to the New Year.
Total Time
1
hour
10
minutes
Ingredients
3

cups

all-purpose flour

1

cup

sugar

1

tsp.

baking powder

1

tsp.

baking soda

1/2

tsp.

cinnamon

1/2

tsp.

allspice

1/2

cup

chopped walnuts

2

large eggs, separated

3/4

cup

honey

1

cup

black coffee, room temperature
Instructions
Preheat oven to 350 degrees. Grease a 9 inch round or 8 x 8 baking pan. Line with wax paper. Set aside.

In medium bowl or with electric mixer, beat sugar, egg yolks and honey until well beaten and combined.

In a separate bowl, sift together, flour, baking power, baking soda and spices. Alternately add flour mix and coffee to egg and sugar mixture. Stir until well combined. Add in nuts.

Pour batter into baking pan. Bake for one hour or until a tooth pick inserted into center of cake comes out clean.

Cool on wire rack. Dust with confectioner's sugar before serving.
…The Backstory continues:  Made well, it's actually quite delicious, moist, and full of fabulous fall spices including cinnamon and allspice that we all love and heartily dig right into whenever we see our revered American classics like apple pie or pumpkin pie.
So why does honey cake often get thought of in such a humdrum way? I'm not so sure. I think part of is that it can look rather bland on the plate, and truth be told, even the photograph above isn't all that exciting. But plated and presented beautifully, say with caramelized bananas or a scoop of cinnamon ice cream, honey cake can be elevated to an entirely new level. That's not to say  you have to hide the cake–the honey cake recipe below is absolute perfection. I give you my word: I've made it, served it, and devoured it. It's just that honey cake needs a bit of a modern day makeover (at least, in my humble opinion).
Next Rosh Hashanah, jazz yours up with some berries or saute a few bananas in two tablespoons of butter and two tablespoons of brown sugar and serve it alongside the honey cake. Watch what happens.
Please follow and like us: