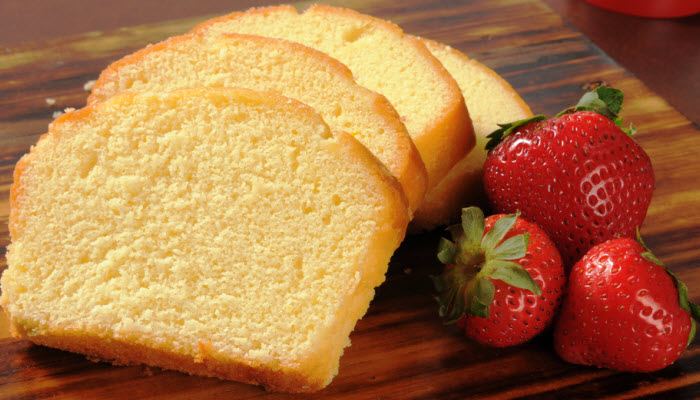 Dense and moist make this cake a fan favorite!
The Backstory: This is the quintessential vanilla poundcake recipe that belongs in every cook's collection of go-to desserts.  It is absolutely scrumptious by itself, dressed up with fruit and homemade whipped cream, as a base for a trifle or fondue, or for recipes that call for a vanilla cake for any kind of layering. This cake is dense, moist and can be used in so many other recipes that I often make two loaves and freeze one for later use. The recipe below is built for just that purpose–two loaves–so if you only want one, be sure to halve it before you start whipping things up in your kitchen. More of the Backstory after the recipe…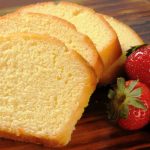 Vanilla Poundcake
This rich, buttery poundcake has a sweet hint of vanilla plus a zesty note of lemon for a perfectly balanced flavor that stands up to ice cream and sauces or is just perfect on its own. Top with confectioner's sugar and fresh berries for a truly delicious, anytime dessert.
Ingredients
2

cups

sugar

1

cup

butter, softened

3 1/2

cups

cake flour

1

cup

milk

6

egg yolks

1 1/2

tsp.

baking powder

2

tsp.

pure vanilla extract

1/4

tsp.

Kosher salt

1

tsp.

lemon zest
Instructions
Preheat oven to 350 degrees. Grease and flour two 9 x 5 loaf pans.

With an electric mixer at high speed, beat sugar and butter until light and fluffy. Add eggs yolks, two at a time and combine well. Add lemon zest and mix until just combined.

Add the flour, remaining dry ingredients and the milk, and combine on low speed. Beat until well mixed, constantly scraping the bowl with rubber spatula. Continue to beat at high speed for about 4 minutes, occasionally scraping the bowl.

Pour batter evenly into the loaf pans and bake for 45-50 minutes or until a toothpick inserted into the center comes out clean. Cool cakes in pans on wire rack for 10-15 minutes. Remove from pans and allow to cool completely on rack (approximately 30 minutes).

Dust with confectioner's sugar before serving.
…The Backstory continues: My grandmother always made marble and lemon bundt cakes and poundcakes when I was a little girl, and this cake tastes like something she would have made, but I have to confess, I don't recall her ever making a vanilla poundcake. This recipe was given to me by an old boyfriend's mother many years ago, and she has since passed away, so I can't show her how wonderful this looks on the screen. I don't remember her making this cake for me during any of my visits, but as soon as she learned of my love for baking, she walked straight to a kitchen drawer, pulled out a hand-written recipe and handed it to me. "Take this," she said, handing me a truly precious gift. That was back in 1992 and since then, this is the only poundcake I've ever made.
She was spot on!
One of the things that makes this cake so delicious is the simple addition of lemon zest to brighten the overall flavor of the cake. It's a subtle touch but it makes a wonderful, flavorful difference. Dust the cooled, finished cakes with confectioner's sugar and serve with fresh berries for a truly wonderful and simple (in a good way) dessert.
Please follow and like us: