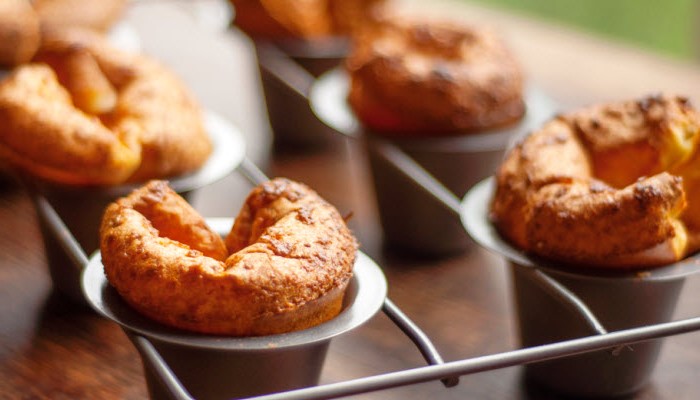 Giant popovers deliver a true wow factor to a holiday table. They're huge golden rolls that are flaky, light, and with a perfect touch of chewiness.
The Backstory: I can find no trace to Jewish tradition for the giant popover, but I will take some creative license and make one up here: Giant popovers are fairly close in ingredients, taste, and structure to Yorkshire Pudding, and I happen to have an English grandmother, and as we all know, many of our ancestors hail from merry Old England (do you get where I'm going with this?…) More of the Backstory after the recipe…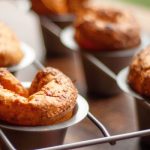 Giant Popovers
Enormous, golden, light and flaky, and I could go on...these can't even be put in the same category as dinner rolls. Think of popovers as giant baked gifts perfect for scooping up gravy, mashed potatoes, soup, or a perfect pat of butter. They're easy to make and are an absolute show-stopper when served in a heaping basket.
Cook Time
1
hour
10
minutes
Total Time
1
hour
20
minutes
Ingredients
6

large

eggs

2

cups

milk

6

tbsp.

butter

2

cups

all-purpose flour

1

tsp.

Kosher salt

vegetable oil or softened butter for lining baking pan
Instructions
Preheat oven to 375 degrees. Grease popover pan or custard cups with a little softened butter or about a 1/2 tsp. of vegetable oil per cup. Set aside while oven preheats.

In large bowl, with electric mixer at low speed, beat eggs until frothy. Beat in milk and butter.

At low speed, beat flour add salt into egg mixture.

When oven reaches 375 degrees, put greased popover pan or greased custard cups on baking sheet into oven for exactly three minutes. After three minutes, carefully remove from oven and pour about 3/4 cup batter into each popover or custard cup.

Bake for one hour and remove from oven. Make a small slit in the top of each popover to release steam. Return to oven and bake for 10 more minutes.

Immediately remove popovers from pan or custard cups. Serve hot.
…The Backstory continues: So, from this day forward, I am granting honorary Jewish status to the giant popover and giving it a warm welcome to The Jewish Kitchen. And why not? They are delicious, flaky, and they meet most Jewish bakers' butter requirements (i.e. they contain butter, LOL), and if you try one, well, you won't be able to stop there.
I started making popovers when I was dating (another story for another day) a Jewish guy who was pretty much raised on all things WASP. Honest to God, he was the spitting image of a Brooks Brothers cover, except he was as Jewish as the next guy named Aaron (detail for you), but he had a propensity for all things Anglo. Let's forget about the fact that he was proudly Jewish, loved a good pastrami on rye, always took me to the most fabulous deli called Lou and Hy's whenever we visited his family in Akron, Ohio. Nonetheless, he liked to think of himself as a Jew in WASP clothing and, well, what can I tell you? He was a world traveler who read Graham Greene, the J. Peterman catalog, and drove a Volvo. And so I learned to make popovers.
Darn it if they weren't so good. The thing is, I served them along side Grandma's Sweet and Sour Meatballs, which he soaked right up with the popovers. (My mother didn't raise a dummy.)
I'll admit I was a bit intimidated when I first made these. For one thing, I thought I needed a fancy popover pan, and so I bought one, at the equally fancy Williams Sonoma, even though, as a rule, I despise having to buy one specific pan or gadget that has a single purpose. The pan works perfectly, but truth be told (and no offense to WS, whose products I adore), you can also use deep custard cups placed on a baking sheet and they work just as well.
The trick to making perfect popovers–and there is one–is this: grease the popover pan or custard cups with a little oil or softened butter and put it in the preheated oven for 3 minutes to heat up before you pour the batter into the pan. That's the key to the perfect popover. Be careful when you take the pan out of the oven to add the batter as it will be screaming hot.
Please follow and like us: