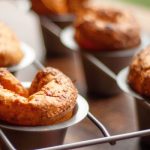 Giant Popovers
Enormous, golden, light and flaky, and I could go on...these can't even be put in the same category as dinner rolls. Think of popovers as giant baked gifts perfect for scooping up gravy, mashed potatoes, soup, or a perfect pat of butter. They're easy to make and are an absolute show-stopper when served in a heaping basket.
Cook Time
1
hour
10
minutes
Total Time
1
hour
20
minutes
Preheat oven to 375 degrees. Grease popover pan or custard cups with a little softened butter or about a 1/2 tsp. of vegetable oil per cup. Set aside while oven preheats.

In large bowl, with electric mixer at low speed, beat eggs until frothy. Beat in milk and butter.

At low speed, beat flour add salt into egg mixture.

When oven reaches 375 degrees, put greased popover pan or greased custard cups on baking sheet into oven for exactly three minutes. After three minutes, carefully remove from oven and pour about 3/4 cup batter into each popover or custard cup.

Bake for one hour and remove from oven. Make a small slit in the top of each popover to release steam. Return to oven and bake for 10 more minutes.

Immediately remove popovers from pan or custard cups. Serve hot.