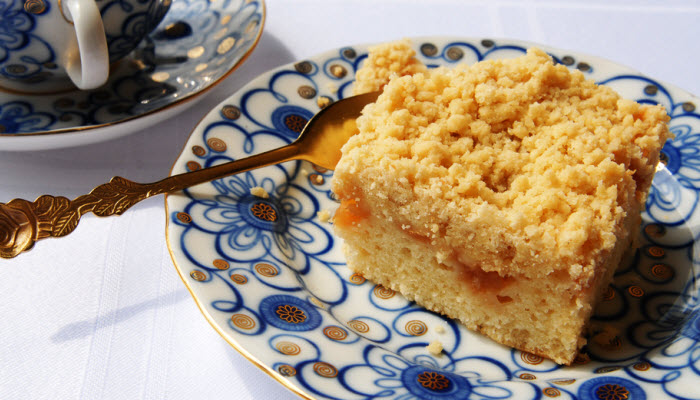 Crumbly, cinnamon, and coffee–the perfect trio!
The Backstory: My Aunt Alice was one of those fabulous characters who always seemed to be floating into a room on a cloud of color, perfume and fashionable clothing. She wore perfectly coordinated lipstick and eye shadow and always seemed ageless to me when I was a child. More of the Backstory after the recipe…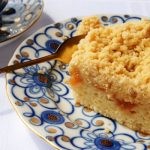 Aunt Alice's Coffee Cake
Moist and delicious, serve up this coffee cake for brunch, coffee with the girls, or anytime you need a little something sweet to accompany a cup of coffee or tea.
Ingredients
For the Cake
1

stick

butter or margarine, softened

2

eggs

1

cup

sour cream

1

tsp.

pure vanilla extract

1

tsp.

fresh lemon juice

2

cups

all-purpose flour

1

tsp.

baking powder

1

tsp.

baking soda
For the Topping
1

tsp.

ground cinnamon

1/4

cup

sugar

1/2

cup

chopped walnuts

1/2

cup

semi-sweet chocolate chips
Instructions
Preheat oven to 350 degrees. Butter an 8 x 8 glass or baking pan.

In an electric mixer on medium speed, beat butter and sugar until light and fluffy. Add eggs, one at a time and combine. Add vanilla and lemon juice.

Mix in dry ingredients and stir on medium speed until well combined.

Pour half of batter into prepared pan. Sprinkle half of the topping mix on top of the batter. Pour remaining batter on top and cover with the rest of the topping mix.

Bake for 45 minutes. Let cool on wire rack until ready to serve.
…The Backstory continues: When my cousin Hara and I were little girls, maybe around 9 and 10, she gave each of us a large plastic shoebox type of bin filled to the top with costume jewelry: sparkly bracelets, necklaces, pins, earrings–the works. We ripped open our boxes, took one look at that pile-o-bling, and our preteen hearts were instantly in love.
To this day, Hara and I reminisce about that perfect box of glamour, and even though technically, Aunt Alice was not our aunt per se, but an old family friend, we grew up thinking of her as Aunt Alice, calling her Aunt Alice (and her husband, Uncle Sam), and cannot imagine it any other way. In our hearts, there was Aunt Alice and Uncle Sam. Period.
Come to think of it, I think Hara said not too long ago that she still has one of those pins.
Well, as it turns out, Aunt Alice was a pretty fabulous baker. Who knew? I learned of this when I asked my Aunt Sandy (Hara's mom, and author of many of the recipes on this site including Aunt Sandy's Mandel Bread) to dig up her favorite recipes for The Jewish Kitchen. "You need Aunt Alice's Coffee Cake," she told me. I'll send it." A few days later she did with a pile of other wonderful family favorites. And I'm so glad that she did. I made Aunt Alice's Coffee Cake and it is delicious. You know that big piece of crumbly. cinnamony, moist coffee cake with the really good topping you wish you had right now?
Well, you're in luck. This is the recipe for that cake.
Please follow and like us: