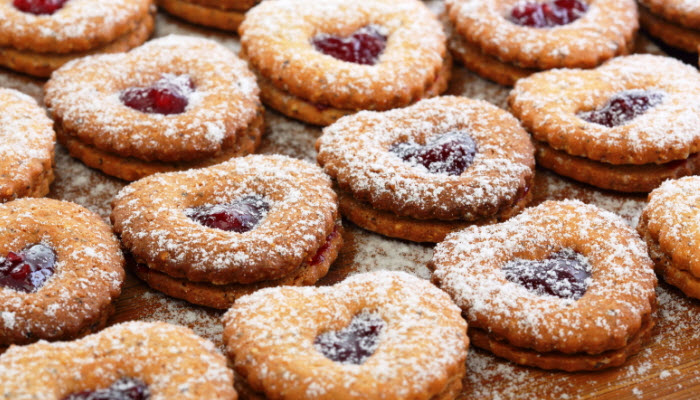 Aunt Alice's Linzer Cookies
Aunt Alice's Linzer Cookies will melt your heart! These gorgeous cut out cookies with their red centers and clouds of Confectioner's sugar are just the beginning! They are light, buttery, and full of almond flavor. These are beautiful holiday gifts and look stunning on a dessert buffet table. .
The Backstory: Linzer Cookies just gets you at hello and I'm pretty sure they know it. Between their beautiful shapes (hearts are common), peekaboo cut-outs, and their flirtatious layer of raspberry jam peeking through a cloud of confectioner's sugar, well, what's a cookie-lover to do? More of the Backstory after the recipe…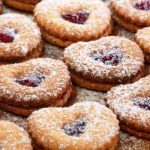 Aunt Alice's Linzer Cookies
Buttery, nutty, heart-shaped sandwich cookies nestle a layer of raspberry jam and are dusted with Confectioner's sugar for a treat that's beautiful to behold and devour. You won't be able to stop at one!
Total Time
1
hour
12
minutes
Ingredients
1

cup

whole almonds, blanched or natural

2

cups

all-purpose flour

1/2

tsp.

ground cinnamon

1/2

tsp.

Kosher salt, plus more for water

zest from one lemon

1

cup

unsalted butter, at room temperature

3/4

cup

sugar, divided

1

tsp.

pure vanilla extract

2

large egg yolks

3/4

cup

raspberry or black currant jam

Confectioner's sugar for dusting
Instructions
Preheat oven to 350 degrees. Place almonds on a baking sheet and bake for 8 - 10 minutes or until lightly browned. Remove and let cool. Place almonds in food processor and add 1/4 cup sugar and process until finely ground.

In a separate bowl, sift together flour, salt, cinnamon and lemon zest. Set aside.

In bowl of electric mixer on medium speed, beat butter and remaining 1/2 cup sugar until light and fluffy. Beat in egg yolks and vanilla. Beat in ground almonds and slowly add in flour mixture until well combined.

Divide dough in half and wrap each half in plastic wrap. Refrigerate dough for 60 minutes.

Preheat oven to 350 degrees. Line two baking sheets with parchment paper. Remove one ball of dough from fridge.

On a lightly floured surface, roll out dough until about 1/4 inch thick. Using a 3 inch heart or round cookie cutter, cut out the cookies and place 1 inch apart on lined baking sheets.

Using a smaller cookie cutter, cut out the centers of half of the cookies on the baking sheets. Repeat with remaining dough in fridge. Note: If the cookies start to get soft and lose their shape, place the baking sheets in the fridge until ready to bake.

Bake cookies for 12 minutes or until lightly brown around the edges. Cool on wire racks.
To Assemble Cookies
Place cookies on a cool baking sheet and dust the tops with confectioners sugar. Spread a thin layer or raspberry (or other) jam on the bottom layer of a full cookie (a cookie that does not have a hole cut out of it). This is the layer that will show through the top cookie with the cut out. Place the cut out cookie on top and gently press together. Using a small spoon or piping bag, fill the cut out hole with a little more jam if desired.
…The Backstory continues: The recipe below comes from my Aunt Alice, of Aunt Alice's Coffee Cake fame, and it is a beauty. The cookies are light, nutty and buttery, with a slight hint of lemon, and they are truly spectacular when plated.  Once you start dusting the linzer cookies with confectioner's sugar, something starts to take over. I don't know what it is, but each and every time the little snowfall of sugar starts to hit those cookies, I daydream about opening a bakery and decorating cakes and setting up daily window displays. You try it and see what happens. Something about a plate full of hearts with red centers and clouds of white and, well, everything just starts to get a little fuzzy
Please follow and like us: