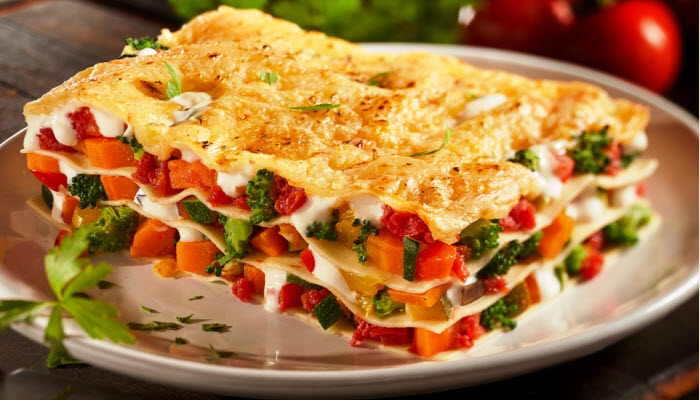 Our vegetable lasagna is the perfect, one-pan meal for weeknights, Shabbat, or feeding a crowd. Make a second pan to freeze for later on!
The Backstory: Pasta is one of those dishes that is loved by almost everyone I know.  When veggies are added, it is ideal for people that are not meat lovers. I know of very few cultures that don't incorporate some form of pasta in their daily meals. Even though pasta it is considered an Italian staple it was not native to Italy. Thanks go to Marco Polo for bringing this classic back from his travels to China, where noodles reign supreme. More of the Backstory after the recipe…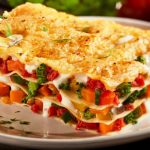 Vegetable Lasagna
Vegetable lasagna is a classic comfort foods that is loved by all. This hearty pasta and veggie meal is loaded with cheese and is simply heaven on a plate. This is sure to please the fussiest eater.
Total Time
1
hour
50
minutes
Ingredients
8

lasagna noodles

cooked and drained

4

cups

crushed tomatoes

or jar sauce of your choice

10

ounces

frozen chopped broccoli,, cooked

or frozen chopped spinach

1

cup

chopped celery

1

cup

chopped sweet onion

1

cup

chopped red pepper

or green peppers

1 1/2

tsp.

crushed dried basil

or herb of your choice

1

large clove garlic, minced

1

large egg beaten

3

cups

ricotta cheese

1/2+

cup

grated Parmesan cheese

1

cup

mozzarella cheese, shreeded

if using a ball of cheese, enough to cover top of the casserole dish

1/4

tsp.

black pepper

8

ounce

box of mushrooms, cleaned and cut into small pieces

optional
Instructions
Preheat oven to 350 degrees. In a large saucepan mix together the tomato sauce, celery, onions, red pepper, basil, and garlic Bring to a boil and lower the heat. Simmer for 20 minutes until thickened, stirring often.

In a medium bowl, combine the egg, ricotta cheese, Parmesan cheese, and black pepper. Add the cooked and cooled broccoli and set aside.

In a 13 X 9 inch baking dish, add 1/2 cup of tomato sauce. Spread all over the bottom. Place half of the noodles over the sauce. Spread half of the broccoli mixture over the noodles. Over this spread half of the remaining sauce. Repeat layers, ending with the sauce.

If using the ball of mozzarella cheese, cover the top with the slices now. If using the shredded mozzarella cheese, follow these directions: Place the casserole into the oven. Bake for 25 minutes, then sprinkle the shredded cheese over the top and return to oven for 5 minutes or until cheese is melted. Remove and let rest for 10 minutes before serving.
…The Backstory continues: As for tomatoes, they came to Europe by way of Mexico. The Spanish explorers brought them back after their colonization of South America. The story continues. It was the Italians and the people of the Middle East who incorporated pasta and tomatoes into their cooking. Thank goodness, or we might not have lasagna or our beloved shakshouka.
My family is a lover of pasta in any form, whether it is made with mainly cheese, meat, or vegetables. To make any pasta meal Kosher, I use Kosher products and of course, Kosher meats from my Kosher butcher. This lasagna recipe was given to me from my neighbor.  She inherited it from a friend many years ago and tweaked it over the years, like we all do when when we make a recipe our own. Isn't that half the fun of sharing recipes and putting your own special spin on it?
Please follow and like us: