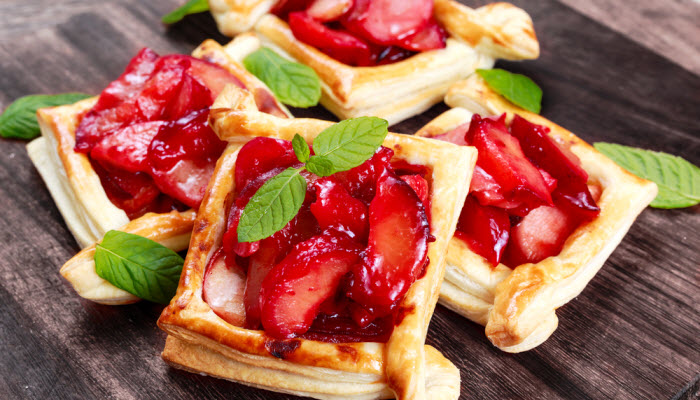 These delicious tarts are so simple to make and they turn out the most delicious summer dessert. Puff Pastry Plum Tarts also work with apples, peaches, and berries and will become one of your favorite go-to desserts.
The Backstory: I always have a box of puff pastry in my freezer and no matter what, I always have tons of fruit in my house. It didn't take long to come up with this delicious dessert during summer months, but truth be told, I often make this for Rosh Hashanah, using apples (as in, apple tarts) when I want to make as much use apples and honey as I can. Although this version doesn't use honey, in the fall, I simply brush it over the apples after baking (mixed with a little water). You can do that here, too, if you choose. More of the Backstory after the recipe…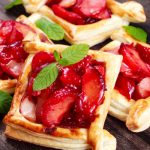 Plum Tarts with Puff Pastry
These sweet, juicy, and tart desserts are easy to make and oh, so delicious. Ripe plums, a touch of sugar and flaky puff pastry come together to make the perfect ending to any meal.
Ingredients
1

package

2 sheets puff pastry, thawed

4

large ripe plums, washed, pit removed and thinly sliced

9

tbsp.

granulated sugar

1

large egg + 2 tbsp. water

1/2

cup

raspberry or strawberry preserves (optional), heated

2

tbsp.

water

Confectioner's sugar for dusting

mint for garnish (optional)
Instructions
Preheat oven to 400 degrees. Line 2 baking sheets with parchment paper.

Dust counter or board with flour. Lightly roll or flatten one sheet of puff pastry and cut 9 squares with a sharp knife. (Keep other sheet of puff pastry in fridge while you work.)

With the tip of your knife, draw an outer boarder about 1/2 inch all along the outside of each pastry square. The plums should not go outside of this line. Place squares on one of the baking sheets a few inches apart. With a fork, gently prick the center of each square a few times (called docking) to make sure your puff pastry, doesn't, well, puff up too much in the middle while baking!

Arrange plum slices and sprinkle each square with1/2 tbsp. of sugar. Repeat with other sheet of pastry dough, remaining plums, and sugar on the other other baking sheet.

With a fork, beat egg and 2 tbsp. water in a small bowl and brush over outer edges of tarts. Bake for 15-18 minutes or until pastry dough is golden brown. Check tarts around minute 15 so it does not burn.

While tarts are baking, combine preserves and water in a small saucepan and stir until combined and the preserves are slightly thinned out.

Remove from oven and let cool for 5 minutes and then gently brush plums with preserves/water mixture. Dust with Confectioner's sugar if desired and serve.
…The Backstory continues: Any kind of delicious stone fruit –plums, peaches, even nectarines–will work beautifully with this simple dessert, and when they're served warm–I don't have to tell you. They simply disappear in minutes. One box of puff pastry will yield either 9 small-to-medium tarts (each puff pastry sheet is folded in thirds, so simply unfold and cut each strip into three squares) or, if you want to make some large tarts, roll out each sheet a little to smooth away the folds, and make 6 tarts per sheet. You can even make 4 per sheet if you want to give everyone a very large tart. I've done it (for those who really deserve it, LOL).
What I love most about making this recipe with plums is the caramelization that happens to the plums once the sugar and the heat of the oven start to do their magic. Something wonderful just happens when everything starts humming along in that oven and it's all I can do so stand back and wait. Not my strong suit. After they come out of the oven, cool slightly, hit them with a dusting of Confectioner's sugar, and if you're feeling extra naughty (as you should be),a little vanilla frozen yogurt or ice cream. Oh, it's a beautiful thing.
Please follow and like us: