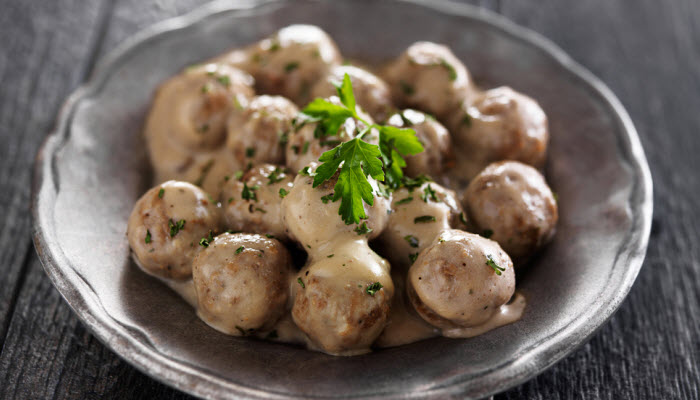 Savory Swedish meatballs are served at so many Jewish simchas, you'd think we invented them! Our 20-minute recipe will have you turning them out like a pro.
The Backstory: Swedish meatballs are one of the world's most popular dishes and and just about everyone loves when they're served as party appetizers on those frilly toothpicks. And for good reason: they're tender, juicy, savory, and bite-size. But how in the world did a Swedish specialty find its way into so many Bar and Bat Mitzvah cocktail hours and wedding receptions? I honestly have no idea but I'm glad they did. More of the Backstory after the recipe…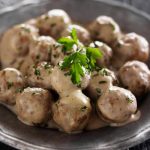 Swedish Meatballs
Savory, bite-size meatballs are tender, juicy, and full of delicious herbs and spices. These are perfect appetizers for your next cocktail or holiday party.
Ingredients
3

tbsp.

minced onion

5

tbsp.

olive oil

1

cup

breadcrumbs

1 1/4

cup

Kosher chicken stock

1

lb.

Kosher ground beef

4

tbsp.

flour

2

tsp.

cornstarch

2

tbsp.

fresh chopped parsley

1

large egg, slightly beaten

1

tsp.

Kosher salt

1/4

tsp.

pepper

1/2

tbsp.

fresh dill

1/2

cup

water

1/2

cup

dry white wine
Instructions
Saute onions in 2 tbsp. oil. Combine with crumbs, 1/2 cup stock, meat, egg, spices and parsley.

Shape into meatballs. Roll in flour and brown on all sides in remaining oil. Add dill and remaining stock and simmer for 5 min.

Combine cornstarch and water and add to pan. Add wine. Cover and simmer for 5-10 min. Sprinkle with parsley and serve over cooked broad noodles.
…The Backstory continues: This delicious recipe comes to The Jewish Kitchen from my late cousin Shirlee Feldberg.  The recipe was originally published in her Sisterhood's Kosher cookbook from Congregation Shaarey Tfiloh, (Spring Valley, New York). This recipe can easily be made as a main dish and goes perfectly with wide egg noodles and a green vegetable such as sauteed string beans.The'y're also wonderful as a party appetizer and especially good for any holiday get together on a large platter with those old-fashioned frilly toothpicks (I think of my grandmother whenever I see those, so that's always a good thing). No one can eat just one of these, so consider making a double batch.
Thank you to my cousin, Lenny Feldberg, for allowing me to republish Shirlee's recipe here.
Please follow and like us: