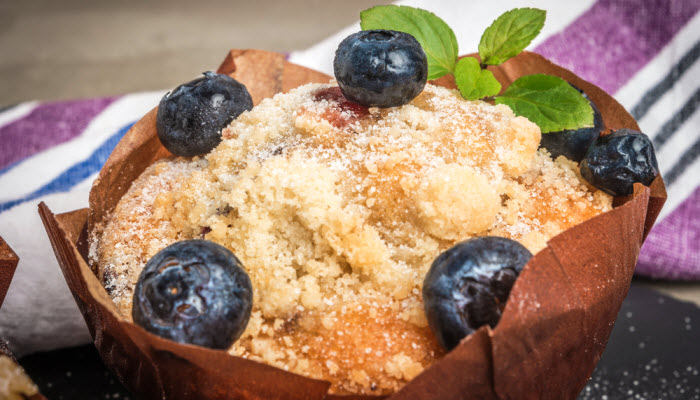 These are just about the best blueberry crumb muffins we've ever come across. The muffins are moist, sweet, and absolutely delicious. AND. OH. THAT. TOPPING. TO DIE FOR!
The Backstory: I am a lover of all baked goods (no surprise, as you've no doubt noticed by now). And I absolutely love the simplicity of a good blueberry muffin. But these are blueberry crumb muffins, people. We are talking next level! To me, a good muffin has to possess three qualities: it has to have the proper ratio of berries to muffin, it has to have a crunchy, crumbly top, and it has to be light enough to not put me to sleep an hour after eating it, but rich and dense enough to be truly satisfying. This muffin recipe accomplishes all three. More of the Backstory after the recipe…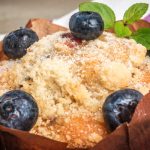 Blueberry Crumb Muffins
Sweet blueberries and a hint of lemon zest give these muffins their delicious, fresh flavor. They are the perfect choice for brunch, coffee with the girls, a Sunday buffet table, or any time you want a little something sweet.
Ingredients
For the Muffins
2

cups

all-purpose flour

3

tsp.

baking powder

1/3

cup

sugar

1

tsp.

Kosher salt

1

cup

buttermilk

1/2

stick

melted butter

1

cup

fresh blueberries, rinsed

1

tsp.

lemon zest

1

egg

well beaten

extra sugar for topping the muffins
For the Crumb Topping
1/2

cup

sugar

1/2

cup

all-purpose flour

1/4

cup

cold butter, cut into small pieces

1 1/2

tsp,

freshly ground cinnamon
Instructions
Preheat oven to 425 degrees. Spray a 12 cup muffin pan with non stick spray and insert 12 paper muffin cup liners. Set aside.

Sift all dry ingredients together into a large bowl and set side.

In a small bowl, mix together the egg, buttermilk, and butter. Add to the flour mixture, stirring until all of the liquid is absorbed. Gently add in the blueberries and fold together.

Spoon batter into muffin cups. Set aside.

In a small bowl, mix together 1/2 cup sugar, 1/3 cup flour, 1/4 cup butter, and 1 1/2 teaspoons cinnamon. Mix with fork and sprinkle over muffins. Bake for 20 minutes.

Let cool on wire rack for 10 minutes and then remove muffins from baking pan.
…The Backstory continues: I love making muffins for brunch gatherings, (I make a dozen or so and pile them in a big basket next to the bagels–everyone is always surprised to find something other than bagels on the table, LOL), and for Sunday mornings after my family comes home from our family service at our synagogue. They are the perfect pairing for a heaping bowl of fresh fruit, Greek yogurt or a steaming cup of coffee. You'll love this easy recipe and I hope it becomes one of your go-to favorites.
Please follow and like us: