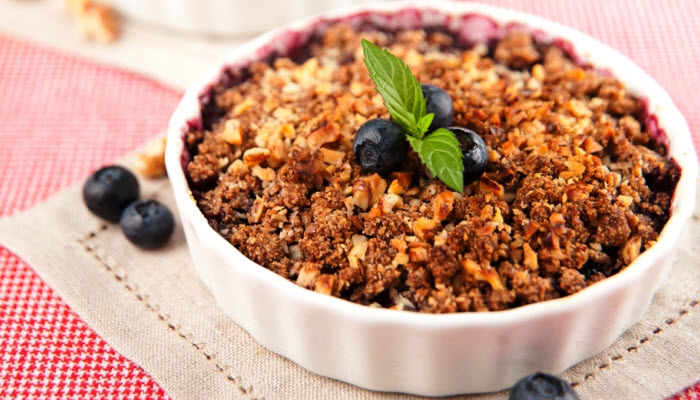 Sweet seasonal fruit and warm spices bake until tender under a crumbly, buttery topping.
The Backstory: I was looking through all the recipes that I had accumulated over the years and came upon this recipe. I have to admit–I never made this recipe but I have eaten this dessert many times over the decades.  Sure, I wanted to prepare this crisp, because I happen to love all fruit and who could resist the crumble topping? More of the Backstory after the recipe…
Fruit Crisp
While this bakes, your home will be filled with the most amazing aromas from the sugars, juices and nutmeg! Fair warning! And once you see those juices bubbling up through the crunchy crumble, well, all bets are off! You'll be tempted to start digging right in with a spoon.
Ingredients
For the Crisp
5

lbs

seasonal fruit, peeled, cut into medium size chuncks

apples, pears, peaches, plums, berries. etc.

2

tbsp.

orange juice

1

tbsp.

orange zest

2

tbsp.

lemon juice

1

tbsp.

lemon zest

1/2

cup

sugar

2

tbsp,

flour

1

tsp.

ground cinnamon

1

tsp.

ground nutmeg
For the Topping
1 1/2

cups

flour, divided

2/3

cup

sugar

3/4

cup

brown sugar

1+

stick of butter, cold and diced

leave butter in refrigerator until ready to use

1

cup

rolled oats, uncooked
Instructions
Preheat oven to 350 degrees. Combine the lemon zest, lemon juice. orange zest, orange juice, 1/2 cup white sugar, flour, cinnamon, and nutmeg and combine. Mix in the fruit and blend so that everything is well coated. Pour mixture into a 9.5 x 13 baking dish. Set aside.

To make the topping: in a large bowl, add 1 1/2 cups flour, 2/3 cup white sugar, brown sugar, and rolled oats. Add the butter and cut into mixture using 2 knives, until combined and the crumble is the size of peas. If more butter is needed for the correct texture and size, add a little at a time. Put the crumble on top of the fruit. Do not pat down too hard. Let the crumble be a little loose.

Bake for 30 minutes, if using winter type of fruit like apples or pears, it may have to bake for a several minutes more. Check, by inserting a tooth pick into the fruit, for softness. If need be, bake for a few minutes more. Use your judgement. Remove when done and let rest for about 10 minutes before serving. Serve by itself or with vanilla ice cream.
…The Backstory continues: However, my husband did not like most fruit (seriously) so the recipe just stayed in my folder along with so many others that I never made.  I know my kids did not eat this in our home growing up, because if my husband didn't like something, I just never bothered to present it. Perhaps I was just too busy or lazy.   If they my adult children are reading this, I am sure they are saying "too lazy".  I am truly sorry, kids. Now go make this for your kids. It's delicious!
Please follow and like us: