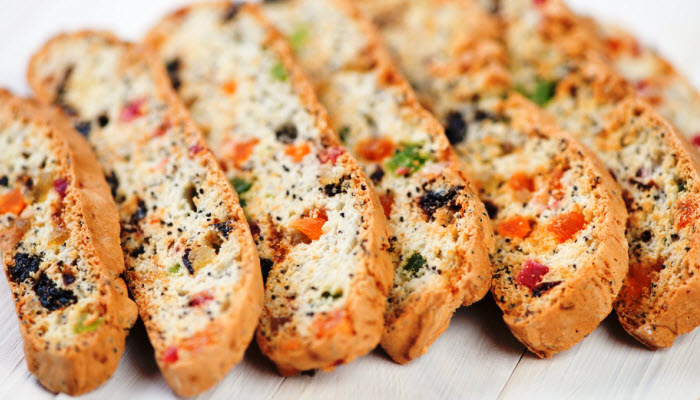 Bella's Mandel Bread (Brot)
Classic twice-baked cookies dressed up with candied fruit. Jewish biscotti?
The Backstory: There are so many variation of these cookies.  Everyone who has ever baked Mandel Bread, will tell you that theirs is the best.  And I am sure that's true. But with so many recipes out there, it is always good to try a new version.  I happen to like these cookies no matter what filling you use.  I don't think I ever told anyone about the first time I made this recipe.  So, I guess it is time for true confession here and now. More of the Backstory after the recipe…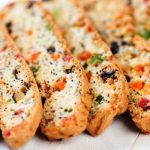 Bella's Mandel Bread (Broit)
Always crunchy and sweet, these cookies are crunchy, sweet and truly addicting. Perfect for dipping in coffee, eating by themselves, or as a garnish for ice cream, pudding or other whipped dessert. They also make a beautiful holiday gift.
Ingredients
3

cups

flour

pinch of Kosher salt

2

tsp.

baking powder

1

cup

chopped toasted almonds

1/4

cup

crushed corn flakes

3

eggs

1

cup

sugar

1

cup

canola or vegetable oil

1

tsp.

pure almond extract

1

tsp.

pure vanilla extract

1/2

cup

glazed fruit
Instructions
Preheat oven to 350-375 degrees. In a large bowl, sift together flour, salt, and baking powder. In another bowl coat the almonds with a bit of this mixture. Set both aside.

In a large mixing bowl with an electric mixer on high speed, beat the eggs until frothy and light yellow, (about 5 minutes). Gradually add the sugar (spoon by spoon), then the oil, almond extract and vanilla extract.

At low speed, gradually add the flour mixture and then the almonds and corn flakes until the mixture is consistent. Add the glazed fruit and mix into the dough.

With moistened hands , shape into long rolls (from about 1/2 cup of the mixture at a time into a ball, then into a log). Place on a greased cookie sheet and bake for about 20-30 minutes, until light brown. Watch carefully so the top of the logs do not split or crack.

Remove from oven, cool and slice. Turn slices onto their sides or back. Return to oven and toast until dry (200 degrees for about another 15 minutes).
…The Backstory continues: When I received the recipe from a friend, I realized that in place of nuts or chocolate chips, I could substitute glazed fruit, I was sold on baking this cake.  Off to the market I went, and purchased a small container of candied fruit. At home, I stored the fruit in the refrigerator, intending to bake the next day. As the day and night progressed, so did I. I made the mistake of sampling said fruit.  If one piece was good, what was a little more?  Get the picture?  The only thing I had to show for the candied fruit was an empty container.
This prompted yet another trip to the market for another container.  I hurried home after the purchase and proceeded to make the Mandel Bread as fast as I could. I never had a chance to sample a morsel of the fruit.  The cake came out perfect and it was delicious.  I baked this cake a few times since then, but never with glazed fruit.  It was too tempting.  This version comes to me by way of my cousin Rhonda. The recipe is her mother's. So I am happy to give you Bella's Mandel Bread. Thanks again, cousin, for coming through with such delicious recipes.
Please follow and like us: