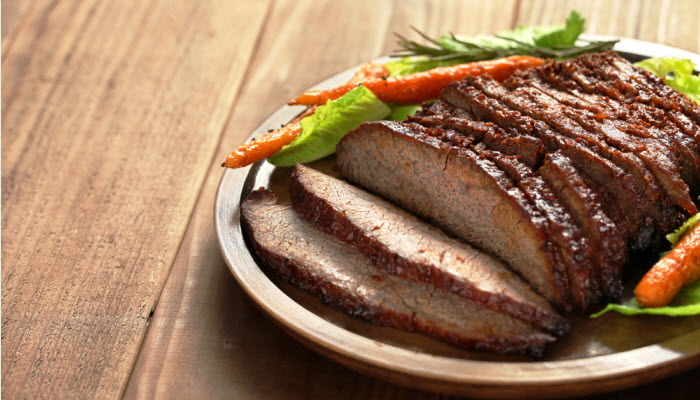 Texas Oven-Roasted Beef Brisket
The Backstory: There are so many recipes for Brisket that you could probably make a different one every day and never get tired of indulging in this meat.  Whether it is baked in the oven or on the stove top, the recipes are endless. You can use a dry rub or a liquid based one. There are so many ways to treat this cut of beef.  Over the years, whenever I am in a discussion  about "What are you making for the holiday?, brisket is usually the first choice in meat.  And everyone has the "best" recipe.   More of the Backstory after the recipe…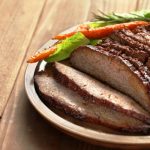 Texas Oven-Roasted Beef Brisket
The brisket may look well done because of its rich color, but wait until you taste this tender meat. Easy to chew and yet so tasty. The blend of the spices gives it that tangy barbecue flavor.
Total Time
4
hours
10
minutes
Ingredients
4-5

lbs.

KosherBeef Brisket, trimmed

2

tbsp.

chili powder

2

tbsp.

Kosher salt

1

tbsp.

garlic powder

1

tbsp.

onion powder

1

tbsp.

black pepper

1

tbps.

brown sugar

2

tsp.

dry mustard

1

bay leaf, crushed

1-1/2

cups

Kosher beef stock
Instructions
Preheat oven to 350 degrees. Make a dry rub of chili powder, salt, garlic powder, onion powder, black pepper, sugar, dry mustard and bay leaf. Season the raw brisket on both sides with the rub. Place in a roasting pan and roast uncovered for 1 hour. Then add the beef stock and enough water to yield about 1/2 inch of liquid in the roasting pan.

Lower temperature to 300 degrees. Cover pan tightly with aluminum foil and continue cooking for 3 hours, or until fork-tender. Remove from oven and let the meat rest for about 10 minutes. Uncover and be careful of the steam that will be released. Trim fat and slice meat thinly across the grain. Serve with the pan juices.
…The Backstory continues: Here is another best brisket recipe. Once again, I have to thank my cousin, Rhonda for passing this recipe to me. This savory version has a little bit of a Texas barbeque kick (as the name implies) from the dry mustard and chili powder. Bring it on, cousin. Bring it on.
Please follow and like us: