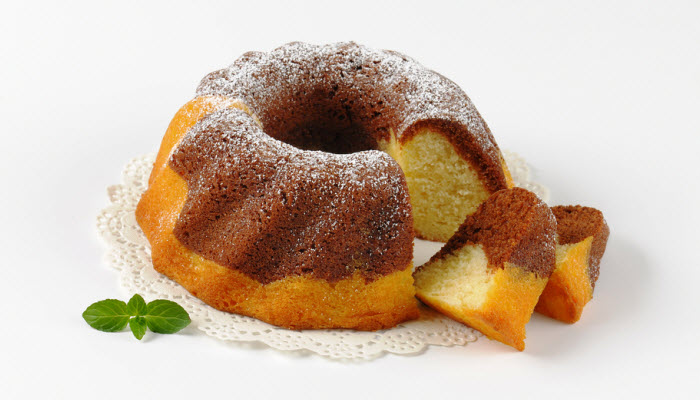 Buttery vanilla and chocolate cake swirled into a perfect bundt.
The Backstory: When I was a little girl, I distinctly remember my grandmother making delicious marble cakes in silver tube pans. She would pop the cake out of the pan, a feat that seemed like a magic trick in and of itself (I was maybe 10 or 11 at the time), lay the cake carefully on a crystal cake stand, give it a sprinkling of powdered sugar, and voila, a gorgeous dessert would stand before me. More of the Backstory after the recipe…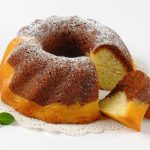 Marble Cake
This deliciously moist cake is the perfect blend of vanilla and chocolate. It's not too sweet, yet it hits just the right note of richness. Perfect for a Sunday brunch, holiday party, or get together with friends. Fresh berries on the site make a beautiful presentation.
Total Time
1
hour
10
minutes
Ingredients
1/2

lb.

butter (2 sticks)

1/2

cup

sugar

4

eggs, separated

2

cups

all-purpose flour

3

tsp.

baking powder

1/2

cup

milk

1

tsp.

pure vanilla extract

1/2

cup

chocolate syrup
Instructions
Preheat oven to 300 degrees.

Cream butter, adding sugar slowly. Add egg yolks. Sift dry ingredients. Add alternatively with milk and vanilla.

Beat egg whites until stiff. Fold into batter. Pour all but 3/4 cup into greased 10" tube or 10" bundt pan.

Combine 3/4 cup batter with chocolate syrup. Spread over batter in pan and cut with a knife in a zigzag fashion to marbleize. Bake for 1 hour.
…The Backstory continues: This would be in addition to the danish fruit ring, cheese cake, and pile of Boston Cream doughnuts (covered in rainbow sprinkles) that my grandfather would pick up from their local Mill Basin bakery, all for a Sunday brunch with our (crazy) family.
But to me, the star of that dessert table was my grandmother's marble cake. How did she make it so swirly? So moist? So gorgeous? And the shape? I couldn't wrap my brain around it.
Thus, you can imagine my surprise when I was waxing poetic about my grandmother's baking prowess not too long ago, when my mother (her daughter) said, "What are you talking about? My mother never baked a cake in her life. It was a mix. Please."
And without so much as taking a breath, my mother went on to tell me about something else (probably her Mah Jongg game or something of equal significance) leaving me utterly shattered. As you may know, my mother writes many of the recipes on this site, (byline Myrna Turek–you have been outed, mom!!!), and I'd just like to go on record and say this: I don't believe a word of it. My grandmother was a wonderful cook as I'm sure you will agree. I watched those cakes come out of the oven and never once saw a boxed mix in her house. That's good enough for me. So there.
That said (breathing, breathing, and counting to ten)…. this marble cake recipe is just like the one MY GRANDMOTHER ABSOLUTELY MADE WITH HER OWN TWO HANDS. It is moist, delicious, and easy to make. It comes to me, courtesy of my cousin Lenny Feldberg, who gave me permission to publish it. It is an original recipe from his late first wife, Shirlee, who was the organizer of her former Sisterhood's cookbook from Congregation Shaarey Tfiloh in Spring Valley, New York. Thank you, Big Lenny (as he is known in our family.)
And as for my own darling mother, well, let's just say that it would give me great pleasure to bake this cake for you and remind you how your own mother did it. Perhaps it will jog a memory.
Please follow and like us: