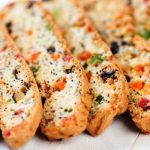 Bella's Mandel Bread (Broit)
Always crunchy and sweet, these cookies are crunchy, sweet and truly addicting. Perfect for dipping in coffee, eating by themselves, or as a garnish for ice cream, pudding or other whipped dessert. They also make a beautiful holiday gift.
3

cups

flour

pinch of Kosher salt

2

tsp.

baking powder

1

cup

chopped toasted almonds

1/4

cup

crushed corn flakes

3

eggs

1

cup

sugar

1

cup

canola or vegetable oil

1

tsp.

pure almond extract

1

tsp.

pure vanilla extract

1/2

cup

glazed fruit
Preheat oven to 350-375 degrees. In a large bowl, sift together flour, salt, and baking powder. In another bowl coat the almonds with a bit of this mixture. Set both aside.

In a large mixing bowl with an electric mixer on high speed, beat the eggs until frothy and light yellow, (about 5 minutes). Gradually add the sugar (spoon by spoon), then the oil, almond extract and vanilla extract.

At low speed, gradually add the flour mixture and then the almonds and corn flakes until the mixture is consistent. Add the glazed fruit and mix into the dough.

With moistened hands , shape into long rolls (from about 1/2 cup of the mixture at a time into a ball, then into a log). Place on a greased cookie sheet and bake for about 20-30 minutes, until light brown. Watch carefully so the top of the logs do not split or crack.

Remove from oven, cool and slice. Turn slices onto their sides or back. Return to oven and toast until dry (200 degrees for about another 15 minutes).