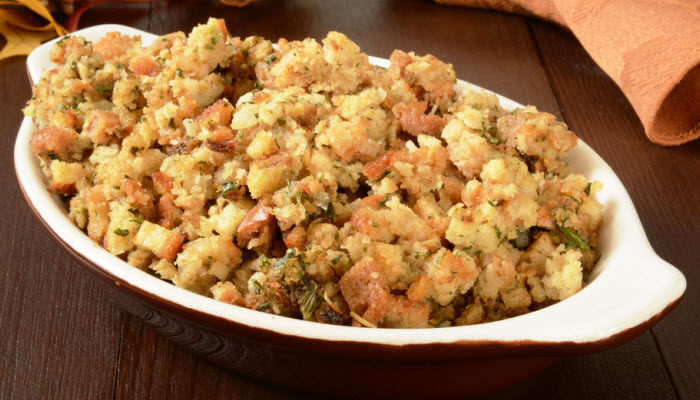 Get your perfect holiday stuffing on! Our easy,versatile recipe works for Thanksgiving and Passover (just swap out the crackers.with matzoh!)
The Backstory: This stuffing can be used year round and can also be made for Passover by replacing the crackers with matzoh.  I made this stuffing for the first turkey I ever prepared. Since then I have tried various recipes for stuffing. Some with meat, some with fruit. I just keep coming back to my mom's cracker and  veggie recipe. More of the Backstory after the recipe…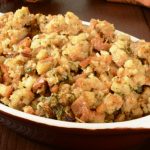 Perfect Holiday Stuffing
I love the aroma of the savory seasonings when this is baking. This stuffing is perfect with any meat, poultry or fish.
Ingredients
1

Box Unsalted Premium crackers/ use only 3 sleeves of the package

break crackers into pieces.

1

cup

small Vidalia or other sweet onion, diced

2

large carrots, peeled and grated

1

cup

stalks celery, peeled and diced

1

tsp.

Kosher salt

1/2

tsp.

black pepper

1/2

tsp.

paprika

1

clove garlic chopped

10

fresh mushrooms, cleaned and cut into small pieces

1

tbsp.

fresh parsley, chopped

to taste

1

tbsp.

fresh dill, chopped

to taste

2-3

tbsp.

canola or vegetable oil

2+

cups

boiling water

you may need more or less .

1

egg, beaten
Instructions
Boil water. Set aside. Put crackers in deep bowl. Slowly add water, stirring until soft but not too mushy. If you have to, add more water to crackers, do so until you get a soft mixture (but not too watery.) Set aside.

Heat oil in large skillet. Saute onion and celery about 2 minutes. Add the carrots, garlic clove, parsley, dill and mushrooms. Stir and cook for about 2 minutes. Add the salt, pepper and paprika. Cook another 3 minutes until all the vegetables are cooked. Adjust seasonings. Use your judgement on the time. Remember this is still going to cook in the oven. Set aside and let cool. Make sure it is cool before you add the egg. Add egg and mix together.

Preheat oven to 350 degrees. In a casserole dish, add a little oil to coat the bottom of dish. Set aside.

Add the cracker mixture to the onion mixture. Then pour into dish and bake for 20-30 minutes, uncovered. Remove from oven and let rest a few minutes before serving.

If putting the stuffing into a turkey or chicken, remember to adjust cooking time.
…The Backstory continues: This is a very savory, well-seasoned stuffing and contains all the ingredients that I like. This stuffing can be also incorporated into many different dishes, such as stuffed chicken breasts or even a stuffing for fish (you can pat the stuffing on top of a fish fillet and then bake the fish for 20 minutes at 400 degrees.
The stuffing can also stand alone and not be stuffed into anything by being baked in a casserole dish (and then it will have a crispy top from oven baking without any meat juices to infuse it).
Please follow and like us: