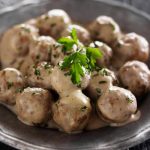 Swedish Meatballs
Savory, bite-size meatballs are tender, juicy, and full of delicious herbs and spices. These are perfect appetizers for your next cocktail or holiday party.
Saute onions in 2 tbsp. oil. Combine with crumbs, 1/2 cup stock, meat, egg, spices and parsley.

Shape into meatballs. Roll in flour and brown on all sides in remaining oil. Add dill and remaining stock and simmer for 5 min.

Combine cornstarch and water and add to pan. Add wine. Cover and simmer for 5-10 min. Sprinkle with parsley and serve over cooked broad noodles.