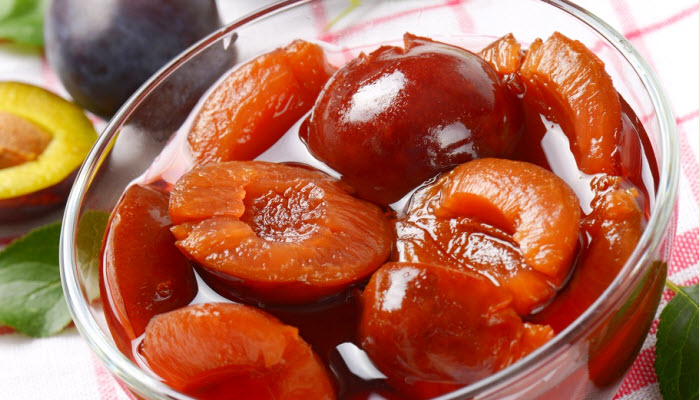 Our tried and true recipe for stewed plums delivers a sweet and slightly tart, classic dessert that will remind you of your Bubbie's kitchen.
Backstory: One of my earliest childhood memories is of my grandmother spooning dark stewed prunes into a small china bowl and serving it to my grandfather. There always seemed to be a joke at the table at how she somehow managed to put exactly seven prunes into his dish, as if this was a magical occurrence. I have no idea why this was such a thing between them, but it always brought a smile to my grandfather's face and it made my grandmother laugh, even though the running joke went over my seven-year-old head. To this day, whenever I see prunes, I think of that sweet exchange between my grandparents. More of the Backstory after the recipe…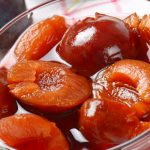 Stewed Plums
Sweet, tart, and tender, these delicious plums are juicy and delicious on their own or with a scoop of vanilla ice cream. The sauce from the plums is one of the best parts of this dish--it is like a dessert sauce that you'll just want to scoop up with a spoon.
Ingredients
6

large plums, cut in half, pit removed

2

cups

boiling water

3/4

cup

sugar

1/8

Tsp.

ground cinnamon
Instructions
Place the plums in a medium saucepan and cover with the boiling water. Add the cinnamon and stir. Cover pot and simmer for 10 minutes. Add sugar and stir until the sugar dissolves completely. Cover again and simmer for 10 more minutes. Let cool and serve.
…The Backstory continues: Well, I never quite took to stewed prunes, probably because as a child, my mother was always forcing me to drink prune juice, but I absolutely love stewed plums. They are both sweet and tart at the same time and the color is just gorgeous. They are delicious on their own or served with a scoop of vanilla ice cream with the luscious sauce spilling over the ice cream. They're also so easy to make and store just beautifully in the fridge. In fact, I find that the longer they sit (maybe a day or two), the better.
The one caveat is that they really come out superbly when the fruit is firm and not soft, so be sure to select firm plums when you shop.
Please follow and like us: