A classic diner favorite: our lemon meringue pie has perfect crust, lemony filling and light meringue. What could be bad?
The Backstory: This is my all-time, absolute favorite pie in the world. In fact, this might be up there in my top 10 favorite desserts of all time, if you want to know the truth. It all goes back to seeing those massive cakes and pies, piled high in the rotating cake displays, back when I was a little girl and my father would take me to lunch at the Caravelle Diner in Brooklyn, after putting in an afternoon of work with him at our family's Borough Park bagel bakery. As soon as I walked in the door, I was face to face with giant spinning blackout cakes, cheese cakes, checkerboard cakes, and gorgeous, billowy, lemon meringue pies, all slowly spinning around and around…and each cake seemed to be about two feet tall. More of the Backstory after the recipe…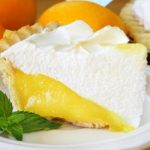 Lemon Meringue Pie
This classic dessert never goes out of style. Luscious lemon filling and a golden pastry crust are topped with billowy meringue for a truly delicious, nostalgic, and perfect dessert. Why change a good thing?
Ingredients
For the Crust
1

cup

all-purpose flour

1

tsp.

Kosher salt

3/4

cup

shortening

5-6

tbsp.

very cold water
For the Filling
1/3

cup

cornstarch

1/8

tsp.

Kosher salt

1

cup

sugar

1 1/2

cups

warm water

zest of 1 lemon

1/2

cup

lemon juice

4

eggs, separated

1

tbsp.

margarine or butter
For the Topping
4

egg whites

1/4

tsp.

Kosher salt

1/2

cup

sugar
Instructions
Make the Crust
In a medium bowl, stir the flour and salt together with a fork. With two knives or a pastry blender, cut in shortening until the mixture resembles coarse crumbs.

Add the water, a little at a time and mix lightly until a dough forms and the pastry just holds together. Shape into a ball. If it is very soft, refrigerate for 20-30 minutes. Otherwise, move on to next step.

Roll crust on a lightly floured board to 1/8" thick. Use a rolling pin to lift it into a a pie plate, making sure to leave 1-2" overhang. Gently press into pie plate and up the sides of the pie plate, Make a decorative edge or crimp/pinch the edge as desired.
Make the Filling
Preheat oven to 400 degrees. In a large saucepan, add cornstarch, sugar and salt and stir together. Add warm water, lemon zest, lemon juice and stir until well-combined. Cook over medium heat, stirring constantly until the mixture boils. Remove from heat. Set aside.

In a small bowl, beat 4 egg yolks with a whisk and then slowly pour the egg mixture into the the sauce, stirring quickly to avoid making any lumps. Return to the heat and cook, stirring until the mixture is thick but NOT boiling.

Add margarine (or butter) to thickened mixture and stir until melted and blended throughout the mixture. Pour mixture into piecrust and make the meringue topping.

Place 4 egg whites and salt in bowl of standing mixer (or use handheld mixer) and beat at high speed until stiff peaks form. As peaks are getting stiff, start to sprinkle in the sugar, 2 tbsp. at a time. When peaks are glossy and stiff, they are ready. Use the back of a wooden spoon to spread the meringue over the pie filling, swirling it up to make attractive swirls and pointy tips.

Bake for 10 minutes or until lightly golden brown. Cool before slicing.
…The Backstory continues: My father also loved lemon meringue pie (and chocolate cream pie and cheesecake and blackout cake….you get the idea) and whenever we would go to The Caravelle, we would share a piece of cake or pie after lunch.
…The Backstory continues: The less nostalgic part of the story is that I'm a klutz. Once when I was about 15, my parents and I returned home from the grocery store with bags of food, including a lemon meringue pie in a large bakery box. My dad gave me one job: get the pie up the stairs without falling and ruining the pie. Dad, knowing how clumsy (and how always in a rush) I was, watched me as I started up the 13 steps from the first floor to the second floor of our house, nervously carrying the pie:
He pretended to count the seconds until I would presumably drop the pie: "One, two, three," he began. By the time he reached "four" I yelled "Oh no!" as I slipped, the pie slid from my hands, the box hit the floor and the pie itself smashed against the inside top of the box. We roared with laughter and later that night, we scooped what we could off the top of the box.
I still love lemon meringue pie and always wish my father was here to share some with me.
Please follow and like us: