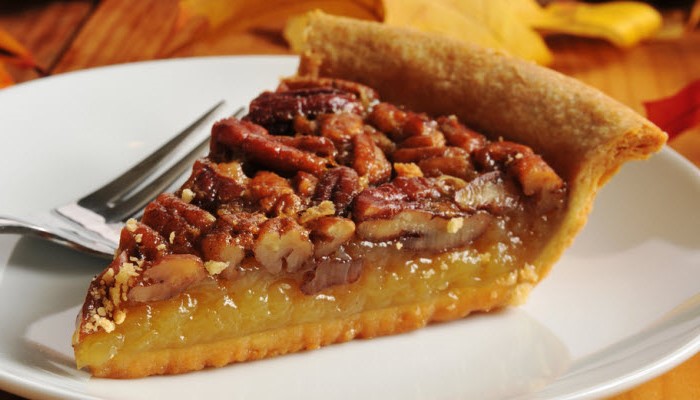 Our recipe for perfect pecan pie is truly foolproof, melt-in-your-mouth delicious, and one of our most requested Thanksgiving recipes.
The Backstory: True confession: this dessert falls right at the top of my husband's short list of favorite things that I bake, and falls dead last on my own similar list. That's not to say it's not delicious–my husband's a pretty tough critic and every single time I bake this pie, he has tears of joy in his eyes when he sees the pie go in (and come out) of the oven. He swears that this pie is heaven on earth. Those I've made it for at Thanksgiving have asked for, and received, the recipe. My own mother has eaten her piece straight from the pie pan, and sometimes without a fork (sorry, Mom, but I took that as a compliment), while she swore that I wasn't her child when I refused to have a slice of my own. More of the Backstory after the recipe…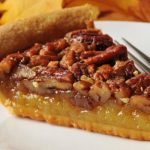 Perfect Pecan Pie
This rich, gooey, and slightly sticky pie is a pecan pie lover's dream. This is a classic recipe with deep autumn flavors that are perfect for Thanksgiving, Rosh Hashanah, Sukkot or any other holiday gathering. Top with vanilla ice cream or whipped cream for a decadent, luscious dessert.
Ingredients
For the Pie Crust
1

cup

all-purpose flour

1/2

tsp.

Kosher salt

1/3

cup

shortening

Crisco brand

3

tbsp.

cold water
For the Filling
3

eggs

1

cup

dark corn syrup

Karo brand

3/4

cup

light brown sugar

1/4

cup

margarine, melted

Fleischman's brand

1

tsp.

vanilla

McCormick's brand

1 1/4

cup

pecan halves
Instructions
In a medium bowl, lightly stir the flour and salt together with a fork. With two knives or a pastry blender, cut in the shortening until the mixture resembles coarse crumbs.

Add in a little cold water (a tbsp. at a time), mixing with a fork to make the pastry just hold together. Use your hands to shape the pastry into a ball.

Lightly flour your board or counter and roll out the pastry to 1/8 inch thickness. Use rolling pin to transfer pastry to pie pan and gently ease it into the pan so as to not tear the crust. Press the crust up the sides of the pan and crimp the edges, tucking excess under and making a decorative edge as desired or trimming the excess.

Preheat oven to 350 degrees.

In a medium or large bowl, whisk eggs very well. Beat in corn syrup, sugar, margarine and vanilla and make sure all ingredients are well-combined.

Arrange the pecan halves in a single layer in the bottom of the piecrust in a circular, coil-like fashion, covering as much of the bottom of the pan as possible.

Pour the egg mixture over the pecans slowly, trying not to move the pecans around.

Bake for 1 hour. Cool on wire rack for at least 45 minutes before serving. Serve with fresh whipped cream or vanilla ice cream.
…The Backstory continues: It's not that I don't eat my own baking–G-d knows there are three sizes in my closet for a reason. It's just that for whatever reason, pecan pie and I have never been friends. I'm just not a fan. I have no idea why. I like pie. Check. Pecans. Check (especially in my salads). Things that most people put on pie, like vanilla ice cream and whipped cream? Check and check. I just cannot eat pecan pie. I have a similar issue with tomato juice. Doesn't work for me, but all other tomato-based products do. Go figure.
But back to the pie. I know this pie is absolutely perfect (which is why it is so aptly named) because I've never made it and had a single piece left over. And I've made this pie plenty of times. It just goes, each and every time. It's a natural for any fall holiday like Sukkot, Thanksgiving, and Rosh Hashanah, but you can also use the same basic recipe for pecan bars (which can be dipped in chocolate after baking and cooling slightly–and watch those fly out the door–my husband can go weak at the knees at the sight of me dipping those bad boys in semi-sweet melted chocolate.
Even if you are like me, and are not a fan of this fan-favorite pie, be a sweetheart and bake one up for someone who loves it. If this is their pie, you will be their hero forever. I'd say that's reason enough to do it.
Please follow and like us: