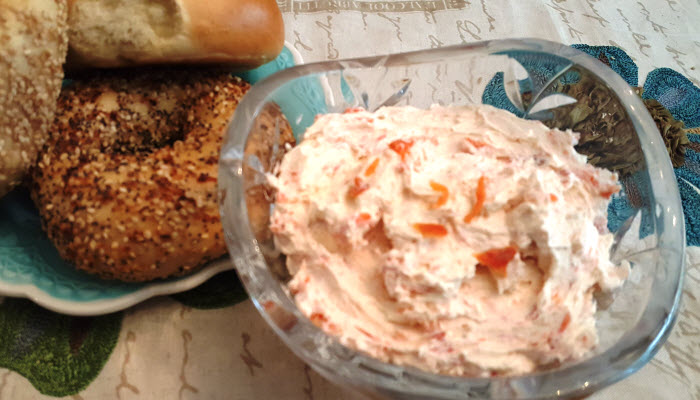 Smoked Salmon Cream Cheese
Fresh smoked salmon is folded into fresh cream cheese in this easy, one step recipe.
The Backstory: This is without a doubt, the easiest, two-ingredient recipe in the world, but totally worth making. I know, I know, you can buy ready-made lox spreads in every bagel bakery and most supermarkets, so why bother picking up a few slices of lox or splurging for package of Nova and going to all this trouble (and by all this trouble, I mean the entire five minutes it will take to make it?)  More of the Backstory after the recipe…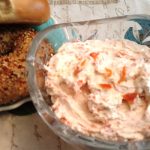 Smoked Salmon Cream Cheese
Fresh pieces of smoked salmon are folded in cream cheese for the perfect bagel topper. Once you have this, you'll never go back to store bought spreads!
Ingredients
1

8 ounce block of cream cheese, room temperature

1/4

lb.

sliced smoked salmon (4 ounces), cut into small pieces

pat salmon dry with paper to remove excess oil before cutting into pieces

seasonings, herbs, onions

your choice to taste (optional)
Instructions
Place cream cheese in a medium bowl and mash with a fork. Add in salmon pieces and mix together until well combined and you can see pieces of the salmon throughout the cream cheese. Add seasonings and stir.

Refrigerate until ready to serve. Serve in a pretty serving bowl.
…The Backstory continues: Because it's completely worth it.
Once you make your own smoked salmon cream cheese, you simply won't be able to buy the store-bought stuff again. It's really true. There's a whole lotta truth behind having best in class ingredients, even it if it's for something as simple as this. So whether or not you're making a full-on brunch spread for a crowd, or just about to toast up a bagel for yourself, this is completely worth the effort. Make a small batch, if the latter is the case. It will store in the fridge for a few days, and trust me, you'll find yourself eating bagels more than you usually would–just to have an excuse to pile on the smoked salmon cream cheese.
Please follow and like us: