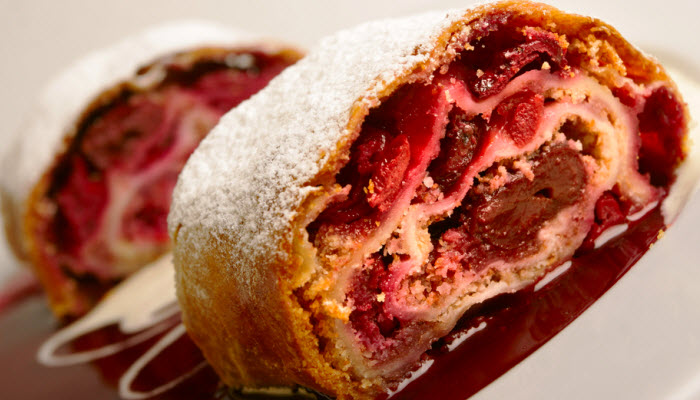 Crisp pastry envelops a sweet and tart cherry filling for a delectable, finger-licking dessert.
The Backstory: Strudel –any kind–has got to be one of the all-time great desserts that has been passed down from Eastern European kitchens to ours. There are so many mouth-watering, delectable versions of the delicate dessert, that each one puts my senses on high alert when I start to think about them, let alone try to write about them. But I will try. More of the Backstory after the recipe…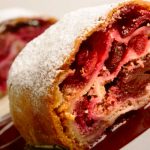 Cherry Strudel
Light, crisp, flaky pastry is the perfect gateway to the luscious cherry and almond filling that's just inside this delicious dessert. Served either warm or cold, this is a classic recipe that makes a beautiful presentation with just a dusting of Confectioner's sugar as a final touch.
Total Time
1
hour
5
minutes
Ingredients
For the Dough
2

cups

all-purpose flour

1

tbsp.

sugar

1

egg plus 1 yolk

3

tbsp,

vegetable oil

1/2 - 3/4

cup

ice water

1/4

cup

melted butter

Confectioner's sugar for dusting

large pastry cloth to roll out the dough on to
2

lbs.

Bing cherries, washed and pitted or 2 one pound cans of cherries, drained

(Not pie filling!)

1 1/2

cups

white bread crumbs or sponge cake crumbs

1

cup

sugar

1

tsp.

cinnamon

1

cup

ground, whole blanched almonds

(you can grind them in a food processor)
Instructions
Prepare the Dough
Sift together the flour, sugar and salt into a medium bowl. Make a well in the center and add the egg, egg yolk, and vegetable oil. Stir together until mixed. Gradually stir in the ice water and mix into the flour until the dough is stretchy but not sticky. Transfer to a floured board or counter and knead for 3 minutes until smooth and elastic. Cover with a tea towel and let stand for 15 minutes.
Preheat oven to 350 degrees. Grease a large baking sheet and set aside. While the dough is resting, prepare the filling mixture.

In a large bowl, combine fresh pitted cherries or canned, drain cherries. add white bread crumbs or sponge cake crumbs. Add sugar, cinnamon, and ground almonds. Toss all ingredients to make sure they are well combined. Note: you can grind the almonds in a food processor fitted with the steel blade. Set aside.

After 15 minutes, lay out a large pastry cloth and sprinkle it with flour. Roll out the dough onto the cloth into a rectangle and roll it as thin as you can. Brush the dough with the melted butter and spread the cherry filling evenly over the dough, leaving a 1/4 inch border. Roll the dough up neatly, into a roll, using the edges of the pastry cloth to help you ease it along. Tuck the ends under so no filling leaks out. Place on the greased baking sheet.

Brush the top of the strudel with melted butter and bake for 35-40 minutes or until the strudel is golden brown. Let cool after removing from oven. Dust generously with Confectioner's sugar before serving.
…The Backstory continues: True confession: I'm not a lover of pie–I'll admit it, but something happens to me when confronted with a gorgeous, crisp strudel. I know they're both vehicles for fruit, but once again, I must pay homage to the art of pastry and fess up that I go weak in the knees for a perfectly prepared strudel. There is a true art to baking and perfect pastry making, rather mastering, is no small feat. I simply cannot discount the elegance and skill of the pastry chef. And so once again, when tasked with how to describe something as simple and complex as strudel, and how it fits into Jewish culture, our culinary life, and why it is so loved in all its iterations–apple, almond, cherry, etc., I have very little to offer other than to say, it is simply quite divine.
You may give strudel a passing glance as you walk into your favorite deli and see a pile of it perched next to the spinning blackout cakes and cheesecakes and lemon meringue pies on those fabulous revolving cake showcases, but for me, strudel is one of those fabulous time travelers from the old country, just like Bubbe's pearls. One of the many things our elders brought with them that we are fortunate enough to call our own.
Please follow and like us: