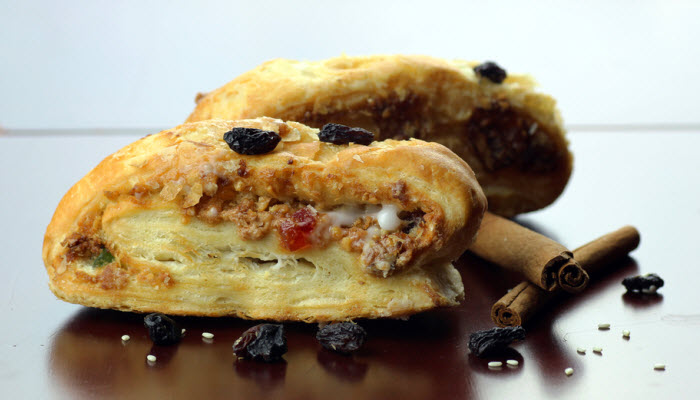 Almond Strudel with Raisins
Classic butter pastry is rolled tight with almonds, raisins, and cinnamon.
The Backstory: As far as strudels go, this version is a little more refined than your standard fruit-filled strudel. Oh sure, it tempts you (as do all good strudels) with it's golden, flaky, come-hither crust, as if it's just a little bit classier, say, than your average doughnut or muffin. Fine, I'll give it that (and then some). But this strudel, well, this one in particular, doesn't even bother to down the classic apple or cherry fililng route. More of the Backstory after the recipe…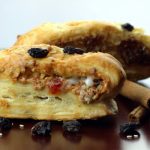 Almond Strudel with Raisins
Light layers of delicious pastry encase a delicious filling of ground almonds, cinnamon, lemon zest and raisins for an out of the world dessert that your guests won't stop talking about.
Total Time
1
hour
5
minutes
Ingredients
For the Dough
2

cups

all-purpose flour

1

tbsp.

sugar

1

egg plus 1 yolk

3

tbsp,

vegetable oil

1/2 - 3/4

cup

ice water

1/4

cup

melted butter

Confectioner's sugar for dusting

large pastry cloth to roll out the dough on to
4

egg yolks

1/2

cup

sugar

1/2

tsp.

ground cinnamon

1 1/2

cup

ground, whole blanched almonds

(you can grind them in a food processor)

3/4

cup

raisins

(you can also substitute chopped glazed fruit)

zest of 1 medium lemon
Instructions
Prepare the Dough
Sift together the flour, sugar and salt into a medium bowl. Make a well in the center and add the egg, egg yolk, and vegetable oil. Stir together until mixed. Gradually stir in the ice water and mix into the flour until the dough is stretchy but not sticky. Transfer to a floured board or counter and knead for 3 minutes until smooth and elastic. Cover with with a tea towel and let stand for 15 minutes.
Preheat oven to 350 degrees. Grease a large baking sheet and set aside. While the dough is resting, prepare the almond filling mixture.

With an electric mixer fitted with the whisk attachment or hand-held beater, beat 4 egg yolks with 1/2 cup sugar until the yolks are light colored and thick. Stir in the ground blanched almonds, cinnamon, raisins, and lemon zest and mix until well combined. (Note: you can grind the almonds in a food processor fitted with the steel blade.) Set the almond filling mixture aside.

After 15 minutes, lay out a large pastry cloth and sprinkle it with flour. Roll out the dough onto the cloth into a rectangle and roll it as thin as you can. Brush the dough with the melted butter and spread the cherry filling evenly over the dough, leaving a 1/4 inch border. Roll the dough up neatly, into a roll, using the edges of the pastry cloth to help you ease it along. Tuck the ends under so no filling leaks out. Place on the greased baking sheet.

Brush the top of the strudel with melted butter and bake for 35-40 minutes or until the strudel is golden brown. Let cool after removing from oven. Dust generously with Confectioner's sugar before serving.
…The Backstory continues: Nope. This one says, I'm an almond strudel, and if you have a refined palate and can grasp perfectly balanced, exquisitely spot on, rich, clear, melt-in-your-mouth flavors, well this one is for you. Sort of like a supermodel who is so completely confident in her own skin, that she Truly. Does. Not. Need. Another. Compliment. Ever.
That kind of thing.
Annoying and delicious. All at the same time.
(And in case you were wondering, yes, we're still talking about food).
Make this strudel for your next holiday dessert. It is darn near perfect.
Please follow and like us: