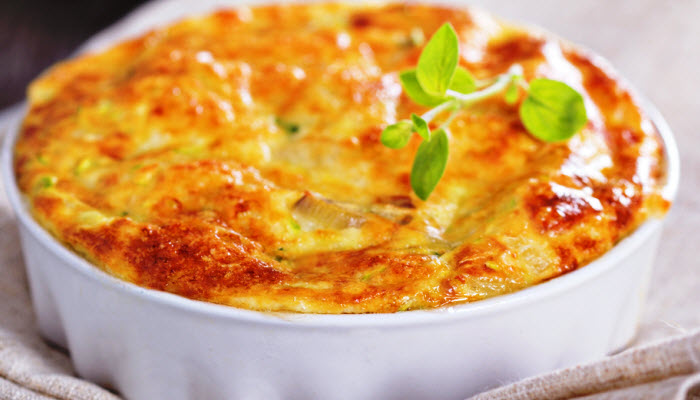 Gloria' s Zucchini Casserole
The Backstory: My girlfriend Gloria is an excellent cook. About 30 years ago my husband and I were invited to her home for dinner.  This casserole was one of the delectable foods she prepared that night.  Whatever she served was very delicious, but this veggie dish was one I could not forget.  She is one of those gals that can create a dish from products she has in her pantry or refrigerator.  I wish I could follow her example. More of the Backstory after the recipe…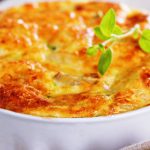 Gloria' s Zucchini Casserole
This tasty and rich zucchini dish is as good to eat as it looks in the casserole. The cheese, garlic and sauteed veggies at once sweet, savory, and delicate.
Ingredients
1

cup

Bisquick mix

4

eggs, beaten

1/2

cup

grated Parmesan cheese

1

garlic clove, minced

1

small onion, chopped

3-4

zucchinis, peeled, and cut into small chunks

1/2

tsp.

Kosher salt

1/4

tsp.

black pepper

3

tbsp.

canola or vegetable oil
Instructions
Preheat oven to 350 degrees. Grease a 9.5 x 13 inch baking dish or a pretty casserole dish. Set aside.

In a large skillet, heat the oil on medium heat. Add add the onions, garlic and zucchini and stir until soft. Add the salt and pepper and mix well.

Remove from heat and let cool. Put into a large bowl and add the eggs, cheese and Bisquick mix. Combine all ingredients until everything is well blended.

Pour mixture into baking dish and bake for 30-40 minutes or until golden brown. Serve immediately.
I know you will find this casserole as tasty as we did. It's the perfect accompaniment to fish, or a vegetarian meal. It's also a wonderful side dish for Breaking the Fast, on Yom Kippur or any holiday when dairy products are served. Over the years  my husband and I were lucky to be the recipient of her culinary skills. Some of her recipes are featured on this site. Try her delicious Apple Cake and her Unstuffed  Cabbage. What can I possibly say about this treasured friend, she is the best.
Please follow and like us: