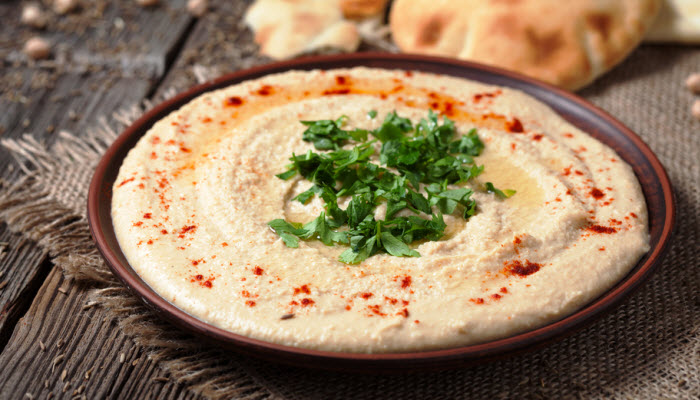 Once you make this easy classic hummus from scratch, you'll think twice before buying store-bought hummus again–it's that delicious.
The Backstory: Easy classic hummus is surprisingly simple to make and there are very few ingredients in this tasty dish.  It also stores well when refrigerated and even though you can find it in just about every supermarket in the U.S., once you make it from scratch, you might find that you start doing so more often–it's really that simply to do. More of the Backstory after the recipe…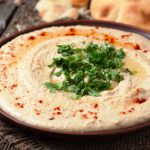 Hummus
Hummus is a tasty, creamy and smooth dip. The garlic and paprika gives it that special zing. Served with crackers or pita bread, you and your family and friends will enjoy every bit of this Middle Eastern staple.
Ingredients
1

15 1/2 ounce can of Chickpeas, drained

reserve the liquid

2

tsp..

chopped garlic

or 3-4 cloves of garlic

2+

tbsp.

Tahini

1

tsp.

Kosher salt

1/2

tsp.

black pepper

1/4

cup

fresh lemon juice

3

tbsp.

olive oil, plus some for drizzling

paprika for garnish

1

sprig of parsley, for garnish
Instructions
In a blender add the chickpeas, Tahini, and garlic. Blend well and add the lemon juice, salt, pepper and 2 tbsp. of olive oil. Blend until mixture is thick and smooth. If too thick, add a little of the reserved liquid from the chickpeas.

Put into a bowl, make a well in the middle and drizzle 1 tbsp. of olive oil in well. Garnish with paprika and parsley and serve with warm pita wedges.
…The Backstory continues: Hummus actually dates back to ancient times.  I read that it was introduced to Syrian Jews by their Arab neighbors.  Naturally, as in most foods that we eat today,  people from all walks of life brought their favorite recipes when they migrated to different countries.. How lucky we are to be able to savor the abundance of delicious recipes today. Enjoy this with warm pita, some fresh lemon, and  a swoosh of olive oil.
Please follow and like us: