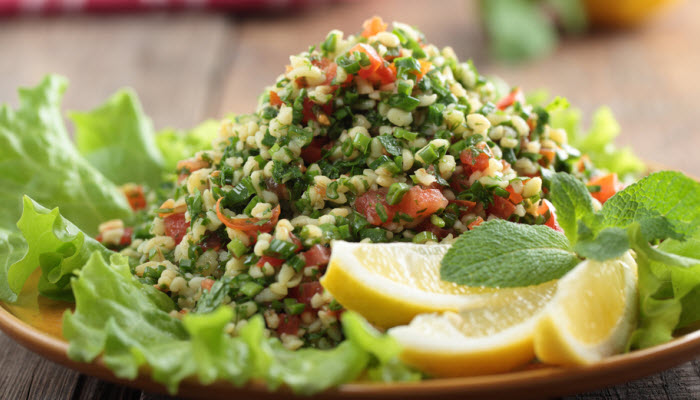 The Backstory: This delicious, fresh salad originated in the Middle East and has become a popular and welcome staple in many supermarkets and homes in the U.S. and around the world.  When people migrated to other countries, their foods and traditions follow them. This recipe and a variation of it has been past down through the generations, but traditionally, tabbouleh combines tomatoes, chopped parsley, fresh mint, Bulgur wheat  and onion, and tosses it all together with olive oil, lemon juice, and seasonings. More of the Backstory after the recipe…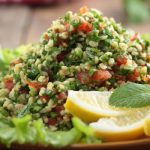 Tabbouleh Salad
This juicy and spicy Middle Eastern salad hits all the right notes for a salad that's savory, light, refreshing and flavorful. Serve with warm pita bread.
Ingredients
1/2

cup

Cracked wheat

soak in hot water for 10 minutes, and drain

3

tbsp.

canola or olive oil

2-3

tbsp.

fresh lemon juice

1

tsp.

cumin

1/2

tsp.

Kosher salt

1/4

tsp.

black pepper

2-3

fresh tomatoes chopped

2

green onions, chopped

or 1/2 small white or red onion chopped

6

sprigs fresh parsley, chopped

1

tsp.

dried mint mint leaves
Instructions
After the wheat has soaked for 10 minutes and has been drained, add the lemon juice, cumin, pepper and salt. Toss together and add the oil. Let rest for about 20 minutes to allow the cracked wheat to soften completely.

After 20 minutes, add the tomatoes, onion, parsley, and mint. Mix, and serve. Refrigerate any leftovers.
…The Backstory continues: It is a tasty and spicy addition to any meal or perfect as the centerpiece of a salad served with fresh pita bread. This recipes uses cracked wheat as a substitute for Bulgur wheat. Cracked wheat can be found in organic markets and and most specialty food stores.
Please follow and like us: