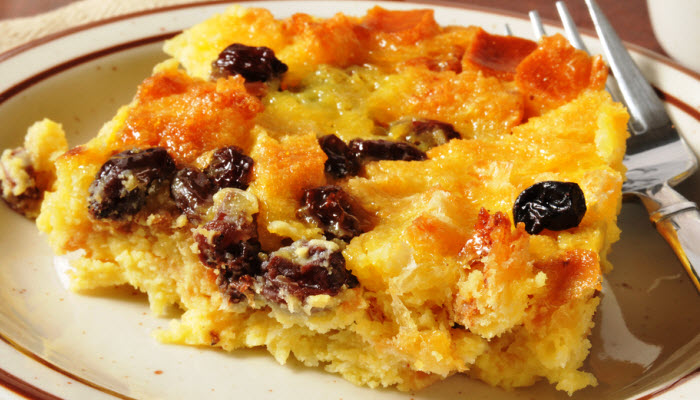 Shirlee's French Bread Pudding
Rich, decadent, and a totally indulgent dessert when you really want to go all out.
The Backstory: Bread pudding is a rich, hearty, decadent dessert that is thought to be borne out of the age old question of what to do with leftovers–in this case–leftover bread. Well, let's hear it for resourcefulness in the kitchen, because this dessert is one of my all-time favorites and I applaud the clever (frugal) cooks who created this marvelous dish. More of the Backstory after the recipe…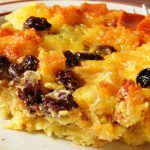 French Shirlee's Bread Pudding
Warm, rich, and full of fall flavors, this delicious bread pudding is the perfect fall or winter dessert. Served warm with a scoop of vanilla ice cream, your guests will devour every last spoonful.
Ingredients
15

small 1/2" thick slices, slightly dry French bread

4

cups

milk

4

tbsp.

butter or margarine

use margarine for Kosher cooking

4

eggs

1/2

cup

sugar

1/4

tsp.

Kosher salt

1/4

tsp.

nutmeg

1

tsp.

vanilla

1/2

cup

raisins

cinnamon and sugar (for sprinkling)
Instructions
Preheat oven to 325 degrees.

Arrange one-third of bread slices in a single layer in a shallow butter baking dish. Overlap remaining slices on top. Scald the milk and then allow it to cool for a few minutes and then add the butter and mix well. Set aside.

Beat eggs slightly in medium sized bowl. Stir in sugar, salt, nutmeg and vanilla. Stir in hot butter and milk mixture slowly. Strain mixture over bread. Sprinkle with raisins and cinnamon and sugar to cover.

Set baking dish in a pan of hot water approximately 1" deep. Bake for 40 minutes or until center is almost set. Remove at once from pan of water.

Serve warm or chilled with cream or whipped cream if desired.
…The Backstory continues: Bread pudding is found in many cultures around the world and each puts its own stamp on it. You can find bread pudding in Puerto Rico, Hungary, Hong Kong, France, England, and even Malaysia. The sauces and spices may vary but the concept remains the same: some form of stale bread is soaked in a cream or egg custard and seasoned with sugar, syrup, honey, or liquer. Sometimes dried or candied fruits are added; other times, the pudding is left unadorned. No matter the differences in the custard or batter preparation, the pudding is then baked and served, sometimes with a sauce or whipped cream or ice cream, sometimes with fresh berries, or sometimes, just as is.
This recipe  uses simple custard with cinnamon, vanilla, and nutmeg as its base spices, plus a sprinkling of juicy raisins that plump during the baking process. It is absolutely scrumptious. It comes to me and now to you, from my late cousin, Shirlee Feldberg, who knew her way around a kitchen and baked goods like nobody's business.
This is truly a perfect dessert for Thanksgiving (surprise, no pie, but no one will care). It's that delicious.
Please follow and like us: