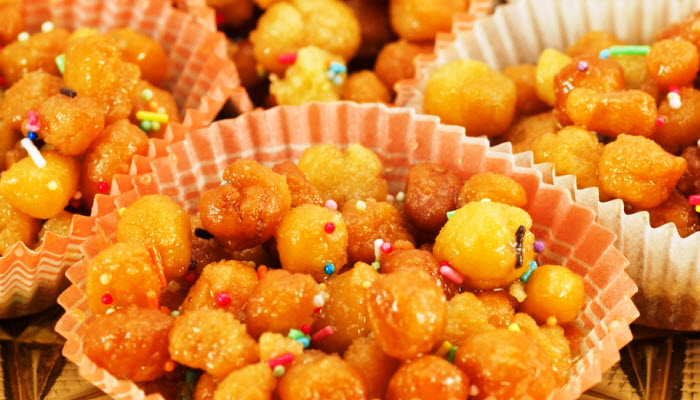 Get ready to get sticky with Carole's Teiglach. This classic Jewish dessert is messy and delicious, but totally worth the sticky fingers!
The Backstory: Teiglach, that sticky, sweet, and lick-your-fingers clean treat is an old-time favorite dessert that traditionally makes an appearance at Rosh Hashanah, Simchat Torah, Purim, and Sukkot. Historians trace it all the way back to Roman times (no lie!) and later to Italian Jews (not surprising–show me one Italian who doesn't know their way around good pastry!), and eventually to Eastern Europe where it became associated with Rosh Hashanah and ushering in the sweetness of a new year. More of the Backstory after the recipe…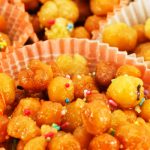 Carole's Teiglach
This traditional, honey-based dish is a sweet and sticky treat that's as beautiful to look at as it is tasty to eat.
Ingredients
3

egg, beaten

3

tbsp.

vegetable or canola oil

2

tbsp.

water

1/2

tsp.

pure vanilla extract

2 1/2

cup

all-purpose flour

1/4

tsp.

Kosher salt

1/4

tsp.

baking powder

1/4

tsp.

ground ginger

1

lb.

honey

1/2

cup

sugar

2

tsp.

orange zest

rainbow sprinkles or nonpareil decorations (optional)

nuts or candied cherries (optional)
Instructions
Preheat oven to 375 degrees.

In a small bowl, combine the eggs, oil, water and vanilla, and beat with a fork or whisk until light and well-combined. Set aside.

In a medium bowl, combine the flour, salt, ginger, and baking powder. Add the egg mixture to dry ingredients and stir with a fork until well incorporated. Knead inside the bowl, using your hands, until the dough feels smooth and looks shiny. Cover the bowl with plastic wrap and let rest for 15 minutes.

After 15 minutes, roll out small handfuls of dough into long, 1/2-inch wide ropes. Cut each rope into 1/3 inch pieces. Roll each piece of dough into balls and place balls onto ungreased cookie sheets. Bake for 20–22 minutes or until golden brown.

While the dough is baking, making the honey syrup: In a large, heavy, 3-quart saucepan, add the honey, sugar, ginger, and orange zest and slowly bring to a boil, stirring occasionally. Reduce heat and simmer for exactly 10 minutes.

Add the teiglach balls to the honey mixture and stir with a wooden spoon until all the teiglach is well-coated. (If you want to add nuts or candied cherries, add them now.) Spoon into paper muffin or cupcake cups and sprinkle with nonpareils or colored sprinkles if you are using them.
Recipe Notes
NOTE: If you wish to make a teiglach pyramid, as is often done with this recipe, simply pour the teiglach into a tart or pie pan and form a mound or pyramid with your hands, working up as you go, using a rubber spatula to help shape the mound.
…The Backstory continues: All this for a tiny, pop-in-your-mouth bite. Impressive.
Teiglach is one of those recipes that can be easily personalized to your liking. The recipe below comes from a lovely lady who passed away many years ago, but who gave me many of her personal and family recipes. Carole's Teiglach uses simple nonpareil's as a little pop of color and decoration, but I do remember her telling me that she often also made this with candied cherries and almonds for her Sisterhood holiday gatherings, so I imagine it would be very easy to simply add those ingredients in, right before transferring the mixture to the cupcake liners or tart pan.
In any case, this is a delicious recipe and I'm sure Carole would be very happy to know that future generations are enjoying her sweet confection.
Please follow and like us: