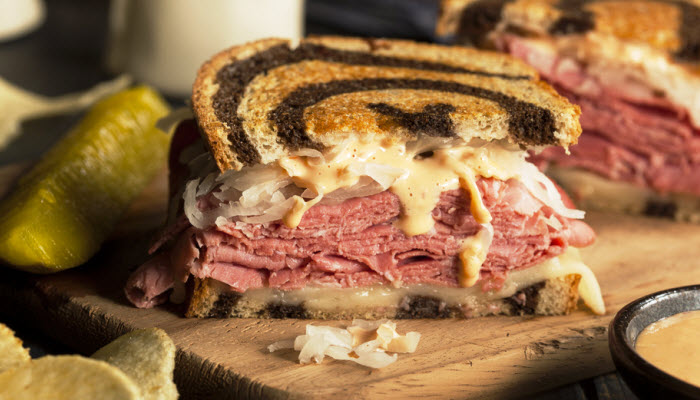 The Backstory: The name says it all: The Reuben. If you're a foodie, a New Yorker, or a Jew, you don't need to hear another word. You hear "Reuben" and the world goes a little fuzzy as your brain has some kind of Pavolian response and the next thing you know, you're either in your car, getting an Uber or on foot to your nearest deli. It's just that simple. More of the Backstory after the recipe…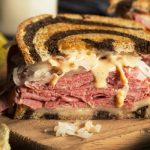 Classic Reuben Sandwich
Ingredients
2

tbsp.

butter

or margarine

8

slices

rye or pumpernickel bread

8

slices

Swiss cheese

8

slices

deli corned beef

1

cup

sauerkraut, drained well

1/2

cup

Thousand Island dressing
Instructions
Preheat a large skillet or griddle on medium heat. Microwave sauerkraut for 30 -45 seconds to warm it up and set aside.

Butter one side of the bread slices, as you would for a grilled cheese sandwich. Put on the grill, butter side down. Layer the non-buttered side with 2 slices of corned beef, 1 slice of Swiss cheese, 1/4 cup sauerkraut, 1-2 tbsp. of Thousand Island dressing, and another slice of Swiss cheese. Top with the remaining bread slices, buttered side out.

Grill the sandwiches until they are golden brown and the insides are nice and melted, about 5-7 minutes per side. Slice sandwiches and serve with dill pickles.
…The Backstory continues: There are some foods, some flavors, some traces of home, growing up, and of childhood that are so rooted in our collective memory of what it means to be a Jew–that can set off a whoosh of memories, and for some people (this writer included) classic Jewish soul food, happens to do it each and every time.
Now here's the kicker: I'm not a meat eater. I've never ordered a Reuben in my entire life. But my husband is,  this sandwich's number one fan.  And I love the look of pure joy that comes over his face when that bad boy hits the table. When he reaches for that sandwich and says "Oh yeah!" as the waiter sets down the five-pound plate. I love the smell of the Reuben and I love what it stands for. I love the history and nostalgia of delis (which remind me of my dad's bagel bakery) and I love knowing that these culinary experiences are hard-wired into our Jewish DNA and that Jews all over the country and the world experience them and relate to them, with their own regional twists.
More connective tissue. More stories told across a deli table. More cultural identity tied together by food and family and sneering old-time waiters (at least, sometimes) in gold smocks who act like they are doing you the biggest favor on earth by bringing you a glass of water. I love the whole gestalt.
But back to the Reuben.
They are actually extremely easy to make at home, but there are a few tricks.
One: you must drain your sauerkraut well and you must heat it up before putting it in the sandwich or else you will have a cold pocket of sauerkraut in an otherwise hot sandwich.
Feh.
Two: Use the best Corned beef and Swiss you can find. Get them sliced at the deli. Don't skimp. Now is not the time for processed cheese and meat.
Finally: Don't forget the Dr. Brown's
---

to wash it all down.
Please follow and like us: