Up until I got married (ok, marriage 2.0, fine), my relationship with my KitchenAid standing mixer may have been one of the more significant and certainly the most satisfying relationships I've had as an adult. I know this may sound completely off the wall, as in, Jodi-needs-to-get-out-more, but truth be told, (and I've a feeling I'm not alone in this), some of the most rewarding, joyful, and peaceful moments in my life have involved that white hunk of steel.
How I love my mixer.
I bake because I love to create delicious happiness for others. Yes, I grew up in a household where food was love (find me a Jew who hasn't) and maybe it started when my dad used to break the tension of every family argument with the suggestion that we all go out for Carvel. Who knows? But the truth of the matter is that once I get the idea to start baking, I simply go into my own little space where all I can focus on–and all I want to focus on–is what I'm about to create, who the recipient will be, how I'm going to package the luscious goodies and every little detail within that timeline and process. I'm fairly certain it's like that for other die-hard bakers.
I've been known to hop in my car at a moment's notice because I'm two tablespoons shy of the butter I need or one egg short of whatever a recipe calls for and I've got it in my head to make that cake/tart/cookie/bar (fill in the blank) and I've simple got to do it. Now. Alright fine, it's a compulsion. But what a sweet and delectable one it is.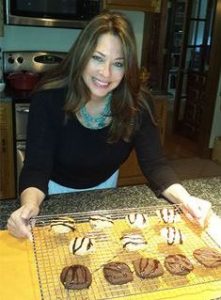 I've been this way for so long, I don't know when it started.
Yes I do: 1996. Fiance 1.0 and I became engaged (Gee, there is a theme here). My aunt Sandy gave me the aforementioned white KitchenAid as an engagement gift. The engagement was called off, but bless aunt Sandy's heart, she insisted I keep the mixer. Now that's some kind of aunt. So this has been going on some 30 years. I cannot even count the number of cheesecakes, tarts, pies, batches of cookies, brownies, lemon bars, thumbprints, rugellach, pound cakes, gingersnaps, pumpkin spice cakes, whipped creams, buttercreams, and on and on that my mixer has helped to create.
Since 1996, my KitchenAid out lasted two fiancees, one marriage, moves to three cities, and saw the birth of my son and my remarriage. It comforted me during my divorce, when my son, Morgan, then 3, loved to hang out in the kitchen with me and play with cookie dough, pour the chips into the mixer, and had so much fun in the kitchen, that I gave him his own little cabinet with plastic bowls, utensils, spatulas and a rolling pin. He loved to sit on the kitchen counter and turn the mixer on, watching everything spin about and become, in his little boy mind, one giant cookie.
Baking brought comfort once again, when I lost my beloved father, bagel baker extraordinaire, and for whom I made so many cheesecakes, iced cinnamon raisin breads, and cream cheese brownies with the only goal of getting him to go weak in the knees. Getting a real baker like my father to give you a thumb's up in the baking department was no small feat, and even though I was always Daddy's girl (as well as a baker's daughter), my love affair with baking dates back to working alongside my father in his bagel bakery as a young girl and later, a teenager. Earning high praise from him was always the goal.
To this day, when I bake something that is truly stellar, I say to myself and then to my husband, my father would so lo-oo-ove this, and we bite in to whatever gooey confection I've whipped up, saying over and over how he should be here. And also to this day, I bake a chocolate crust cheesecake on Thanksgiving, as I always did when my father was alive.
This, all a result of the partnership with my KitchenAid mixer.
Well, as it happens with all good things, my trusty white mixer had its last go-round this past December. I had to replace it with a new one, just shy of 20 years of service. I meant to throw it out, but I didn't. It found a place in my kitchen, as a bookend of sorts, supporting a long row of cookbooks. Somehow it seems like it should be there, watching over the new guy, a larger, stainless steel model. You know. Just to make sure things run smoothly.
Until Next time,

Jodi


Jodi Luber
Founder & Editor-in-Chief
TheJewishKitchen.com

Please follow and like us: