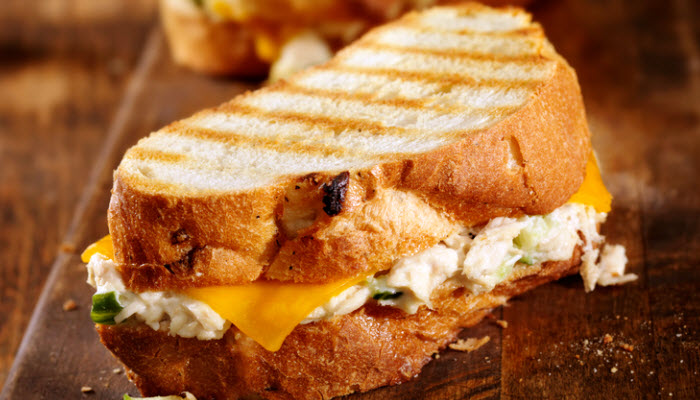 The Backstory: Perhaps one of the all-time great American deli and diner sandwiches is the tuna melt. Simple, savory, crunchy and creamy (but not overly so), this comfort food classic, is definitely high on my list of Jewish food (but also Americana) favorites. More of the Backstory after the recipe…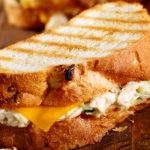 Tuna Melt Sandwich
This delicious sandwich has it all--cool, creamy tuna salad, gooey melted sharp cheddar, and crisp, crunchy, golden bread holding it all together. It's the perfect, hand-held comfort food!
Ingredients
4

slices

rye, thick cut white, or pumpernickel bread

1

12 oz. can solid white tuna in water, drained

1/4

cup

mayonnaise

1

tsp.

Dijon mustard

juice of half a lemon

1/4

tsp.

Kosher salt

1/8

tsp.

freshly ground black pepper

2

tbsp.

chopped red onion

2

tbsp.

chopped celery

1

tbsp.

chopped fresh parsley

4

tbsp.

unsalted butter, softened

2

slices

Sharp Cheddar cheese
Instructions
Place tuna in a medium bowl. Using a fork, mash until it is medium-fine. Add mayo, lemon juice, mustard and mix well. Add salt, pepper, onion, celery, and parsley and mix. Taste and check seasonings. If necessary, add more salt and pepper. Set aside.

Heat griddle or large grill pan on medium heat and butter 2 slices of bread on one side. Place the buttered side of the bread on the grill pan. Add a scoop of the tuna salad to the bread once the bread is on the grill. Add a slice of cheddar on top of the tuna. Butter 2 more slices of bread and place on top of the cheese, butter side out.

Cook the sandwiches for approximately 4-5 minutes on each side, until golden brown. Slice and serve with dill pickles.
…The Backstory continues: It's also easy to prepare and perfect for lunch or an easy dinner. Paired with a hot bowl of tomato soup, it's pretty much a perfect meal. The key is in having all your ingredients ready to go and making sure your tuna salad isn't overly mayo-y (is that a word?) so that it doesn't become too soggy in the sandwich and too rich when combined with the cheese.
And speaking of cheese…
There are are several schools of thought as to what kind of cheese makes the perfect tuna melt. I'm not a fan of cheddar cheese in most other recipes, but when it comes to the tuna melt, my vote is cheddar–and sharp cheddar–all the way. It's a no-brainer, if you ask me. The sharp cheddar is the perfect salty balance to the tuna and mayo, which can be a little rich. The cheddar helps to balance out the flavors and even up the flavor profile of the sandwich.
I've read dozens of recipe on this sandwich and they've offered up Muenster, Swiss, , Gruyere, American (no chance!) and even Monterey Jack as options. I'm sorry, folks, but I have to disagree. This sandwich screams for sharp cheddar and if you happen to be in my kitchen, guess what you'll be getting? LOL.
As for the bread, we'll that's your call. I don't think it matters. Rye, thick cut white, pumpernickel, challah…it's all good.
Have fun making this delicious sandwich. And don't forget the dill pickle on the side!
Please follow and like us: