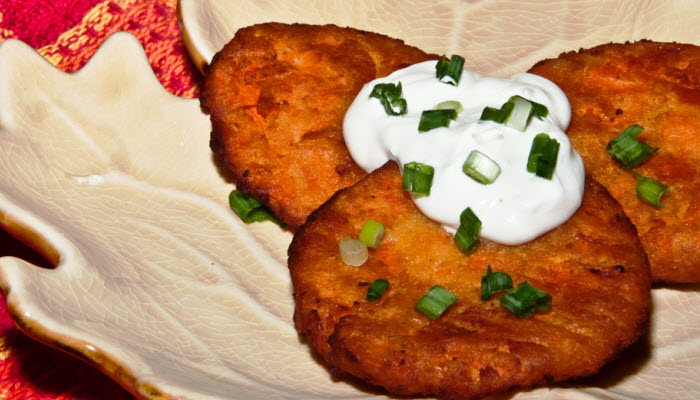 Perfect Sweet Potato Latkes
This no-fail recipe for perfect sweet potatoes turn out crisp and delicious latkes every time. Make sure to make a double batch–they are addicting!
The Backstory: Our perfect sweet potato latkes (or latkas, if you are an East Coaster!) are a delicious alternative to traditional latkes and yet they'll fit right in at your Hanukkah table. Sweet potatoes offer a rich, deep, autumnal flavor and when seasoned with customary fall spices such as cinnamon and nutmeg, they're truly something special when they're fried into crisp latkes. Add a dollop of sour cream, and you've now created that ying-yang of sweet and savory that is out of this world. If you're more of a sweet person, a spoonful of applesauce will send you into culinary heaven. More of the Backstory after the recipe…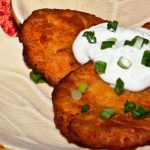 Sweet Potato Latkes
Sweet, crisp, and bursting with fall flavors, sweet potato latkes are a delicious twist on a Hanukkah favorite. Serve them with sour cream for a sweet and savory combination or applesauce for a truly sweet Hanukkah treat.
Ingredients
1

lb.

sweet potatoes, peeled and coarsely grated

4

green onions, coarsely chopped, plus more for garnish

2

large eggs, beaten

1/3

cup

matzoh meal

1/2

tsp.

ground cinnamon

1/8

tsp.

ground nutmeg

1

pinch of cumin

1/2

tsp.

freshly ground black pepper

1

tsp.

Kosher salt

3/4

cup

canola oil

sour cream and apple sauce on the side (if desired)
Instructions
Make sure potatoes are well drained and most of the liquid has been removed. Place them in a large bowl and add the green onions, eggs, flour, salt, pepper, cinnamon, nutmeg, and cumin. Mix until everything is well combined.

In a large, deep non-stick skilled (approx. 12 inches), heat oil over medium-high heat until very hot. Use a large spoon or 1/4 cup measure and spoon latke batter into oil. Flatten into a 3-inch circle with the back of a spoon and reduce heat to medium. Cook until golden, about 1 1/2 minutes on each side.

Transfer latkes to a wire rack with paper towels below, so the towels can absorb any excess oil that drips down. Don't lay latkes flat on the paper towels to absorb the oil--that will cause them to become soggy. Serve with sour cream and apple sauce if desired. .
…The Backstory continues: Hanukkah is celebrated over eight days in the Jewish month of Kislev and is known as the Festival of Lights. Jews all over the world observe the holiday by lighting the menorah for eight nights as a testament to the miracle of the oil that burned for eight night when there was only enough oil to burn for one night. As a reminder of this joyful event, Jews eat foods that are fried in oil, such as latkes and sufganiyots (jelly doughnuts).
Because this batter is so easy to prepare, you can make it ahead and keep it in your refrigerator for a few hours until you are ready to start frying. Store extra latkes (if you have any leftovers) in plastic storage bags in the freezer.
Please follow and like us: