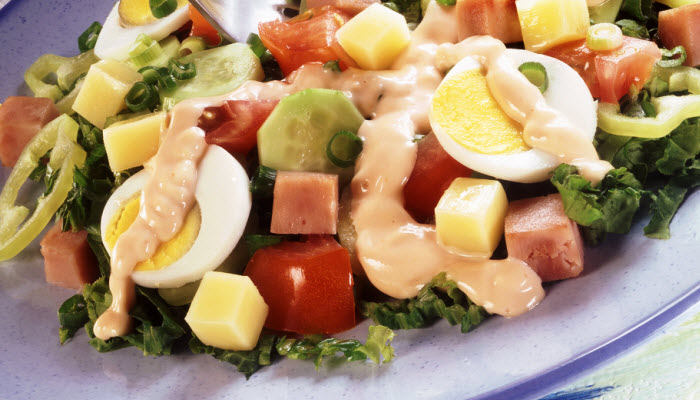 The Backstory: Chef's Salad is one of the easiest dishes to prepare and also one of the most satisfying.  It can be made with just about anything you have in your refrigerator.and pantry.  Sometimes I make this with leftover roast chicken or different cheeses I have on hand. It also tastes delicious with leftover cooked veggies. More of the Backstory after the recipe…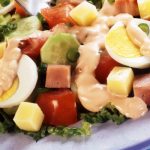 Chefs Salad
This is a colorful salad. But as good as it looks, it is the taste that counts. With the hint of garlic and the zest of the vinegar and lemon juice this will really wake up your senses. The turkey and the rest of the ingredients will balance out all the flavors.
Ingredients
1

lb.

Kosher cooked turkey, cut into medium size pieces

or cooked chicken.

4

stalks of celery, peeled and cut into small chunks

6

hard boiled eggs cut into quarters

4

tomatoes peeled and cut into quarterers

4

tbsp.

fresh parsley, chopped

for garnish

1

garlic clove cut in half

11 ounce box of salad greens

4

tbsp.

red wine vinegar

1/2

tbsp.

fresh lemon juice

3/4+

cup

oil

1/2

tsp.

Kosher salt

1/4

tbsp.,

black pepper

1+

tsp.

sugar

optional

4-6

ounces

Swiss cheese, cut into bite size pieces

optional,
Instructions
Prepare the salad dressing: In a small bowl, whisk together the wine vinegar, lemon juice oil, salt and pepper. If you think you might need the sugar add a little at a time until you are satisfied with the taste. Cover and refrigerate until ready to use.

Rub the garlic inside of a large bowl. Discard garlic when done. Add the salad greens, turkey and tomatoes, If making it without meat or poultry add the cheese now. Lightly toss the salad and add the dressing, a little at a time until the salad is coated to your linking. Sprinkle the chopped egg over the top and do the same with the parsley. Serve.
…The Backstory continues: Just about anything you have on hand can be fashioned into a Chef's Salad, providing you are using freshly prepared meats, fresh cheeses or crisp, fresh produce.  Be creative and toss together whatever you like for a fast lunch.  Add some crusty bread and any icy beverage and you are good to go. To make this Kosher, the cheese should be eliminated.  It is your choice.  Either way this is a delicious and refreshing salad.
Please follow and like us: