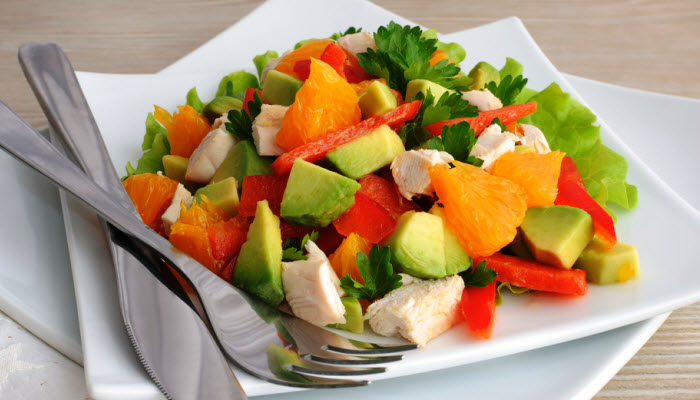 Chicken Salad with Avocado
The Backstory: Walk into any diner or Jewish deli restaurant and you will more than likely find  chicken salad on the menu. However, this refreshing salad, made with avocado has been a relatively newcomer to menus.  With avocados so common in the market, more and more people are incorporating this once considered exotic fruit into their recipes.  Who would have thought that something as exotic as the avocado would have found its way to the Jewish deli and onto its menu? More of the Backstory after the recipe…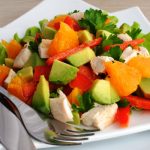 Chicken Salad with Avocado
A lively salad with wonderful ingredients. Its crunchy, nutty and sweet taste makes this a refreshing meal for spring or summer.
Total Time
1
hour
15
minutes
Ingredients
2-3

cups

Kosher cooked chicken, skin removed, cut into medium size chunks

1/2

cup

chopped green pepper

red, yellow or orange peppers can be used

2

medium oranges peeled and sectioned

mandarin oranges can be used.

1/2

cup

chopped pecans

almonds, walnuts can be uses.

1/2+

cup

mayonnaise

1

tsp.

Kosher salt

1/4

tsp.

black pepper

2+

tbsp.

fresh lemon juice, divided

2-3

ripe avocados

do not peel or cut until salad comes out or the refrigerator.

1

11 ounce box of salad greens
Instructions
In a large bowl mix chicken, peppers, pecans, mayonnaise, orange pieces, salt, pepper and 1 tbsp. lemon juice. Cover and refrigerate for 1 hour. Remove from fridge and set aside.

On a large platter arrange the salad greens. Evenly place the chicken mixture on top. Peel the avocados, remove the pit, and scoop out the fruit. Cut the avocado into small pieces and scatter on top of the salad. Drizzle the lemon juice over all. Serve immediately.
So, whether you order this when you are out in a restaurant or prepare this at home, try avocados in a variety of salads, wraps, or sandwiches. This versatile fruit has some health benefits too: they're an excellent source of fiber, vitamins, C, E, K, and potassium and are considered a healthy fat. Who knew?
Please follow and like us: