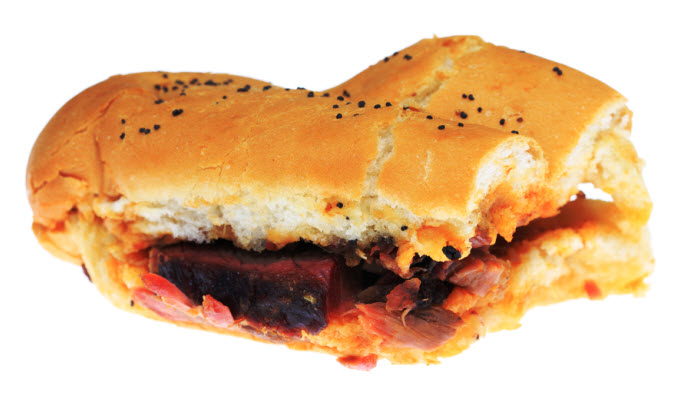 The Backstory: Brisket is something that I have eaten many times (and loved each and every time). Sure, I've had it on a plate and on a sandwich as a nosh. But the first time I had this sandwich, I could not believe what I had  missed all the years. It was so different, yet it was brisket with a kick.More of the Backstory after the recipe…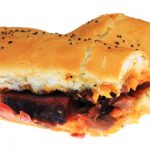 Brisket Sandwich
Tasty from the garlic and the hint of paprika this warm beef when dip into the gravy is just like having heaven on a plate.
Prep Time 10 minutes
Cook Time 3 minutes
Total Time 13 minutes
Ingredients
1 lb. Warm Beef Brisket this is made from leftovers
2+ cups Brisket gravy heated
2 garlic cloves, peeled and cut in 1/2
2 loaves of club bread, cut lenghtwise or, hero or french breads
oil for drizzling
paprika for sprinkllng
Instructions
Preheat oven to 400 degrees. Smear each part of bread with very little oil, rub garlic over all the bread. Discard garlic. Sprinkle on a little paprika. Put bread on rack in oven and toast for about 3 minutes. Do not burn the bread, Just lightly toast it. Remove. Place on a plate and divide the amount of meat you desire, for each sandwich. Add a little gravy. Close sandwich and cut in half.. Serve a cup of gravy with each sandwich. Remember to dip the sandwich into the hot gravy.
…The Backstory continues: There was a deli in Staten Island, New York were I lived. I knew the family that owned the deli, and we frequented the restaurant often. Looking to try something different, I started to read the menu. The one word that stuck out  was "garlic".  Anything with garlic is okay with me. I asked the waiter how is was prepared. I was sold as soon as he told me the process. Simple. of course I ordered it, and every time I went there it was my go-to thing.  I could not believe it replaced my pastrami sandwich.
You can easily make this at home with leftover brisket and a sub roll or some leftover French bread. I encourage you to do so–it's so simple and you will fall in love with brisket again. It's worth picking up a few slices of meat from your local deli, just to make this sandwich. Just don't forget to ask for some brisket gravy to go with it.
Please follow and like us: