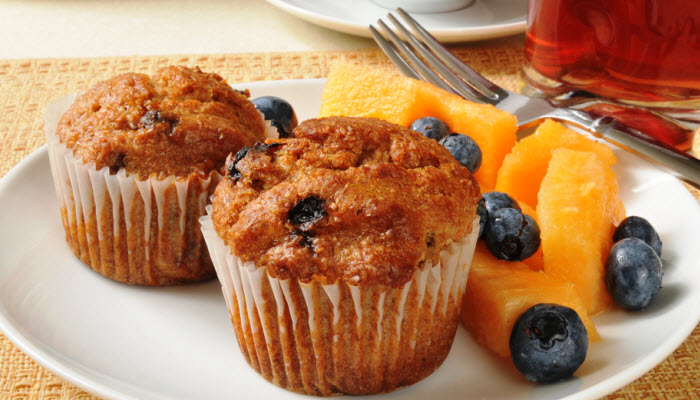 Bran Muffins with Raisins
The Backstory: What is it with Jews and fiber? With an opening question like that, I can only say that I wish my father was here, because he'd have about 50 jokes, ready to go. More of the Backstory after the recipe…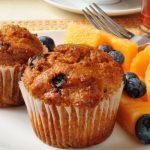 Bran Muffins with Raisins
These moist, delicious bran muffins are nothing like the typical bran muffin. They are sweet, soft, and packed with flavor. Add your favorite dried fruit or nuts to change up the flavor and texture to your exact taste.
Ingredients
1 1/2

cups

wheat bran

1/3

cup

applesauce

1

cup

buttermilk

1

egg

1/2

tsp.

pure vanilla extract

1

cup

all-purpose flour

2/3

cup

brown sugar

1

tsp.

baking soda

1

tsp.

baking powder

1/4

tsp.

ground cinnamon

1/2

tsp.

Kosher salt

1

cup

golden or dark raisins

you can also use dried cherries or cranberries

1/2

cup

honey (for brushing over muffin tops)
Instructions
Preheat oven to 375 degrees. Spray a muffin tin with non-stick baking spray and then place 12 paper muffin liners in the pan.

In a large bowl, mix the wheat bran and buttermilk together. Let the mixture stand for 10 minutes.

In the bowl of a standing mixer or with an electric hand mixer on medium speed, beat the applesauce, egg, brown sugar and vanilla. Add this to the buttermilk and bran mixture.

In a separate bowl, sift together the flour, baking soda, baking powder, cinnamon and salt, Stir the flour mixture into the buttermilk mixture and mix until just blended. Add 1 cup of raisins and mix. Spoon the batter evenly into to the muffin cups and bake for 15 - 20 minutes.

Check doneness by inserting a toothpick or cake tester into the center of a muffin to see if it comes out clean. Remove from oven and place on rack to cool. Immediately brush muffin tops lightly with honey.
…The Backstory continues: In any case, this recipe is packed with fiber, but at the same time, it has nothing to do with fiber. This recipe is all about taste. It is truly a scrumptious recipe for just about the best bran muffins you'll ever make and they're honestly so good, you're kids will love them. I know this because mine do. I serve them with some fresh fruit salad on the side and the kids have a delicious snack or breakfast
What I like about this recipe is that it uses applesauce instead of oil and yet it doesn't sacrifice flavor or moistness. You can doctor the recipe up to your specifications too (as most of us do anyway, when we're puttering around in our kitchens). Sometimes I add a little pineapple to this recipe, to give it a little carrot-cake taste and more of a juicy feel (make sense?) and sometimes I use dried cherries and dates if I'm feeling in a particularly autumn mood. The point is that the recipe base is perfect for however you wish to customize it or you can leave it as is.
If you wish to make jumbo size muffins, like you see in bakeries and deli's, this recipe will give you about 6-8, so if you're cooking for a crowd or making a fancy brunch, keep that in mind and alter the ingredient proportions as you  need to.
Please follow and like us: