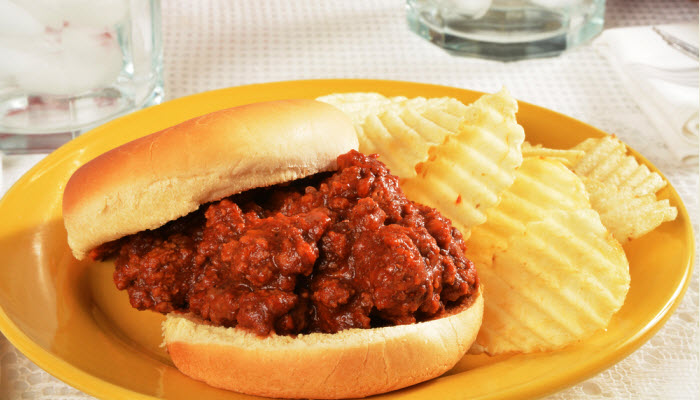 Kosher Sloppy Joes are a fan favorite for kids young and old. The tangy sauce and juicy beef combination are just too good to resist! Add a side of chips, a salad, or even a dill pickle to round out this classic meal.
The Backstory: I have a nephew who loves ketchup.  When he was a little boy, he would eat plain ketchup sandwiches. I love ketchup, but I only have this with a good hamburger or french fries. So, the first time I saw him eating this on bread only, my first thought was "how gross". But his all-time, favorite meal was Sloppy Joe's made with gobs of ketchup.  Today he is a grown man, with grandchildren of his own, but this is still one of his favorite dishes. This meal is easily made Kosher with Kosher beef and by either preparing the sauce form scratch with Kosher ingredients or by using a Kosher variety canned sauce. More of the Backstory after the recipe…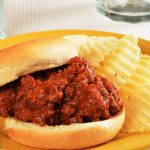 Kosher Sloppy Joes
The name sloppy is so right for this sandwich. It always drips out of the bun because it is a loose combination of tasty beef and ketchup. Be sure to keep a supply of napkins handy!
Ingredients
1 1/2

lbs.

Kosher ground beef

1

medium sweet onion, chopped

1

cup

ketchup

2+

tbsp.

brown sugar

to taste

2

tbsp.

canola or vegetable oil

4-6

hamburger buns

plain or toasted
Instructions
Heat oil in large skillet on medium heat. Add onions and cook for until translucent. Add the ground beef and cook, stirring, until meat is well browned. When meat is all browned, add the ketchup and brown sugar. Stir well and continue to cook another 5 minutes, stirring often. Remove from heat.

Put a bun on a large plate and spoon on the meat mixture. Cover the bun and add a side of your choice. Plate all the buns the same way.
…The Backstory continues: This is a simple recipe and can be prepared in a short period of time. This is a timeless dish that can be enjoyed at any age.  This sandwich is usually served with french fries,  coleslaw and pickles. A cold drink completes the meal.
Please follow and like us: