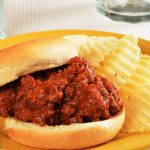 Kosher Sloppy Joes
The name sloppy is so right for this sandwich. It always drips out of the bun because it is a loose combination of tasty beef and ketchup. Be sure to keep a supply of napkins handy!
Heat oil in large skillet on medium heat. Add onions and cook for until translucent. Add the ground beef and cook, stirring, until meat is well browned. When meat is all browned, add the ketchup and brown sugar. Stir well and continue to cook another 5 minutes, stirring often. Remove from heat.

Put a bun on a large plate and spoon on the meat mixture. Cover the bun and add a side of your choice. Plate all the buns the same way.