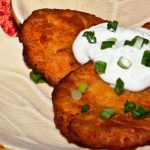 Sweet Potato Latkes
Sweet, crisp, and bursting with fall flavors, sweet potato latkes are a delicious twist on a Hanukkah favorite. Serve them with sour cream for a sweet and savory combination or applesauce for a truly sweet Hanukkah treat.
1

lb.

sweet potatoes, peeled and coarsely grated

4

green onions, coarsely chopped, plus more for garnish

2

large eggs, beaten

1/3

cup

matzoh meal

1/2

tsp.

ground cinnamon

1/8

tsp.

ground nutmeg

1

pinch of cumin

1/2

tsp.

freshly ground black pepper

1

tsp.

Kosher salt

3/4

cup

canola oil

sour cream and apple sauce on the side (if desired)
Make sure potatoes are well drained and most of the liquid has been removed. Place them in a large bowl and add the green onions, eggs, flour, salt, pepper, cinnamon, nutmeg, and cumin. Mix until everything is well combined.

In a large, deep non-stick skilled (approx. 12 inches), heat oil over medium-high heat until very hot. Use a large spoon or 1/4 cup measure and spoon latke batter into oil. Flatten into a 3-inch circle with the back of a spoon and reduce heat to medium. Cook until golden, about 1 1/2 minutes on each side.

Transfer latkes to a wire rack with paper towels below, so the towels can absorb any excess oil that drips down. Don't lay latkes flat on the paper towels to absorb the oil--that will cause them to become soggy. Serve with sour cream and apple sauce if desired. .