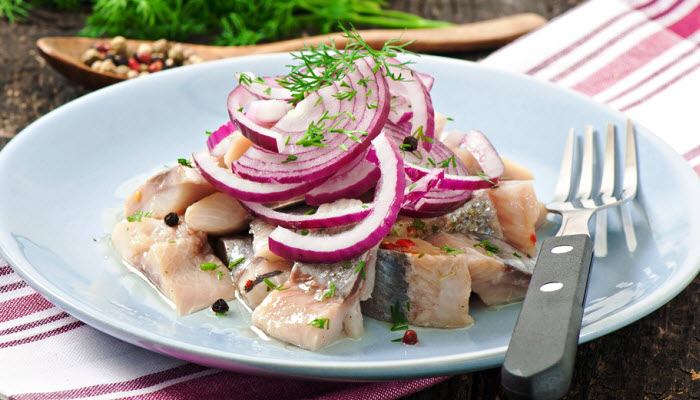 Jazz up store-bought chopped pickled herring with this simple recipe in just a few minutes for a delicious side or lunch.
The Backstory: I am sure chopped pickled herring has been around since man first walked the earth, found water, and noticed these briny little fish swimming around. However for many Jews, pickled herring is just one of those foods that people of a certain generation grew up with–as common as a milk, butter, and eggs. While it's considered a delicacy in parts of Europe, for others, it was simply a staple "appetizing" food that our parents and grandparents routinely brought home along with lox and whitefish from the fish monger. More of the Backstory after the recipe…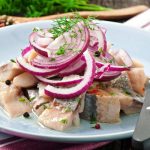 Chopped Pickled Herring
Chopped and served with fresh greens, this a pretty salad to serve to guests, and it's very tasty from simple prep and equally simple ingredients.
Ingredients
1

32 ounce jar of Kosher pickled herring, drained, and chopped

reserve the liquid

3/4

cup

peeled and chopped celery

1/2

cup

chopped red or white onions

paprika for garnish

chopped parsley or dill for garnish (optional)
Instructions
In a deep bowl, add the herring, celery and onion. Mix together. The texture should not be too fine. If more liquid is needed, add a little of the reserved herring liquid, a spoonful or two at a time. Serve on a bed of fresh greens and other salad products you like. Sprinkle with paprika.
…The Backstory continues: Pickled herring can be prepared in many ways: raw, fried, sauteed, and seasoned with different vinegars (as part of the curing process), onions, and herbs. This simple recipe has been handed down though the generations in my family. My mom made it herself and other times she purchased it, but either way, I cannot recall a time when pickled herring was not present in my childhood home.
For my children's generation, well, they claim it's an acquired taste that they, well, have not acquired. They just don't know what they're missing.
Please follow and like us: