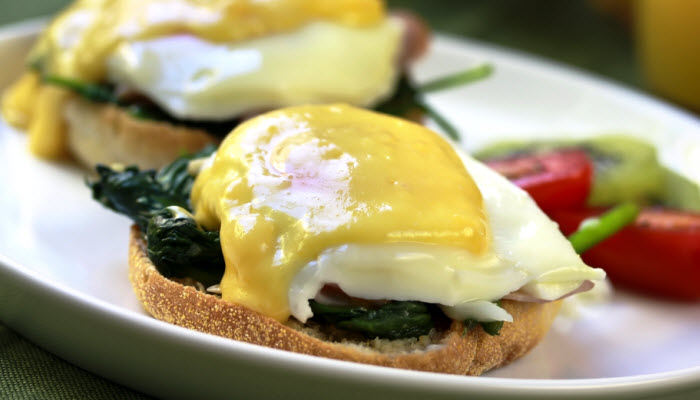 Tender poached eggs and wilted spinach are drizzled with hollandaise in this elegant brunch classic.
The Backstory: There are numerous ways to make this delicious and decadent dish. I always think of Eggs Florentine as Eggs Benedict without the bacon, which is exactly how I prefer it. I've never been a meat lover and don't eat bacon or ham, and for those following a Kosher lifestyle, this is your go-to, elegant, Sunday brunch dish. The layer of wilted spinach beneath the poached egg replaces the meat in Eggs Florentine and gives it an earthy, fresh taste. And then there's the Hollandaise….the rich, creamy, star of Eggs Florentine. More of the Backstory after the recipe…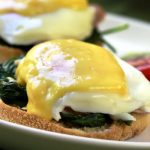 Eggs Florentine
Ingredients
3

egg yolks

2

tbsp.

lemon juice

1/2

cup

butter or margarine

1/4

tsp.

Kosher salt

2

English Muffins, split

2

cups

fresh baby spinach lettuce leaves, washed and dried

4

large eggs

2

tbsp.

butter (for greasing skillet and buttering English muffins)
Instructions
Prepare the Hollandaise
Add egg yolks and lemon juice to a double-boiler top. With a wire whisk, beat until well mixed.

Place double boiler top over bottom pot containing hot BUT NOT BOILING, water.

Add 1/3 of the butter or margarine to the egg yolk mixture and cook, beating constantly until the butter is completely melted. Add another third of the butter, beating constantly. Repeat with remaining third, beating until mixture thickens and is heated through.

Remove from heat. Stir in salt. Keep warm while you poach the eggs and prepare the rest of the dish.
Poach the Eggs and Wilt the Spinach
In a small sauce pan, boil 2 cups of water. Add spinach and cook for 3 minutes. Drain spinach and squeeze out all of the excess water. Keep spinach wrapped in a tea towel or paper towels to remain warm. Set aside.

Lightly grease a saucepan or deep skillet. Pour in 2 inches of water. Heat water to boiling and then reduce the heat to low/simmering. Break an egg into a small bowl or saucer and then gently slip into the simmering water. Repeat with the other 3 eggs. Simmer 3-5 minutes until desired firmness. DO NOT OVERCOOK.

While the eggs are simmering, toast the English Muffins. When the eggs are done, remove with slotted spoon and drain over paper towels to catch extra dripping water.

Assemble: Place two English muffin halves on a plate and lightly butter them. Add some wilted spinach to each half. Top with a poached egg and warm Hollandaise sauce and serve immediately. DELISH!
…The Backstory continues: One of the tricks or challenges, depending upon your view (and there are two) in preparing Eggs Florentine or Eggs Benedict is 1) keeping the Hollandaise warm while you prepare the rest of the recipe, and 2) poaching the eggs properly so they don't overcook. I promise, both can be done in just minutes and you will have a gorgeous, delicious meal that was completely worth the effort.
I first had Eggs Florentine in Chicago's famed Pump Room (no longer open, I'm afraid), circa 1995. The room itself was one of the most beautiful dining rooms I had ever seen. The ceilings had magnificent glass and mirrors and the flowers were gorgeous, abundant, and stood in magnificent, towering arrangements on high pillars everywhere you looked. I really cannot even explain the room–it was just stunning. Back in the 1950s and 1960s, it was a hangout for the Rat Pack–as in Frank, Sammy, Dean, and even Shirley MacLaine and there were hundreds of framed, signed photographs lining the hallway of the restaurant (which happened to be in The Ambassador East Hotel).
What a place.
I'd like to think that Old Blue Eyes enjoyed Eggs Florentine during his many evenings along Chicago's Gold Coast. With a scotch on the rocks to wash it down. Of course.
In any case, I know that you will love this delicious dish.
Please follow and like us: