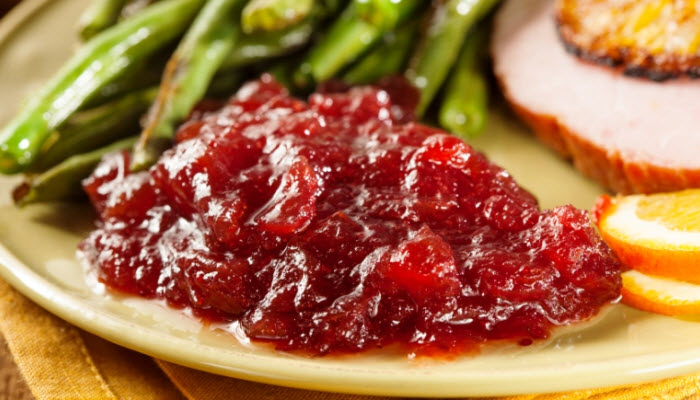 Our perfect cranberry sauce is sweet, tart, and the easiest side you'll make for Thanksgiving, Make ahead and store in the fridge for up to 3 days.
The Backstory: What really needs to be said about everyone's favorite Thanksgiving accompaniment? Cranberry sauce lovers come in two varieties (at least I think they do): those that love the real deal made with whole berries, and those whom have an affinity for the straight-out-of-the-can log kind of stuff. I won't stand in judgement of those who fall into the latter category, but I've got to go on record as saying that I just can't relate. More of the Backstory after the recipe…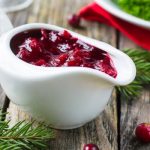 Perfect Cranberry Sauce
Rich, sweet cranberry sauce cooks up in just under fifteen minutes and gets a twist of citrus from orange zest added during the last few minutes of cooking.
Ingredients
1

cup

sugar

1

cup

water

1

pacakge

fresh

whole cranberries, rinsed and drained

1

tsp.

orange zest
Instructions
Combine sugar and water in a medium saucepan. Bring to a boil.

Add cranberries and return to a boil.

Reduce heat and continue to cook for 10 minutes, stirring occasionally. Add orange zest during last five minutes of cooking.

Remove from heat and cover to prevent skin from forming. Chill completely before serving and store in refrigerator until serving.
Recipe Notes
Variations: You can replace the orange zest with lemon zest if you prefer a more tangy taste to your cranberry sauce (or remove it completely, for a more traditional taste).
You can also add a cinnamon stick during the last five to ten minutes of cooking for a delicious and rich cinnamon flavor.
…The Backstory continues: I adore cranberry sauce and this simple recipe, similar to the one on every single can of whole cranberries, bag of cranberries, and cranberry product the world over, is one of the reasons why. It just works. I added orange zest a few years ago and loved it, and kept on adding it after my guests commented that this seemingly minor addition popped just enough to make them go "aha" and want more.
Our perfect cranberry sauce has got to be one of the easiest recipes on The Jewish Kitchen and making cranberry sauce from scratch is one of the most instant-gratification things you can even do in the kitchen! With a just a few ingredients needed and a total turn around time of just about 15 minutes, I'm pretty sure that if you make this recipe, never again will you slide your sauce out of a can on Turkey Day.
Now that's got to be worth something.
Please follow and like us: