Phyllis's Spinach Pie is one of our top-rated recipes and the ultimate comfort food. This decadent dish is a perfect side or lunch with a salad. Double the recipe and make two (freeze one!)
The Backstory: My mother-in-law is responsible for this divine, most-requested dish at every single one of our family gatherings. I like to tell my friends that my husband came with twins, a fabulous set of pots and pans, his wonderful parents, and his mom's spinach pie. Courtesy of my second mom, Phyllis Baron, I give you this outrageous recipe, knowing that after this, we'll be friends for life. More of the Backstory after the recipe…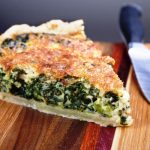 Phyllis's Spinach Pie
This deep dish spinach pie combines a creamy cheese filling with chopped spinach and is ensconced in a double, buttery, pastry crust. The top is covered with poppy seeds that bake right in for a crunchy, sweet surprise with every bite.
Total Time
1
hour
15
minutes
Ingredients
2

packages

frozen pie crust

2 crusts per package, thawed (defrosted in the refrigerator)

1 1/2

packages

cream cheese, softened

8 ounces each

1

egg

3

packages

frozen chopped spinach

thawed in microwave

2

egg whites

separated

1

tsp.

Kosher salt

1/2

tsp.

freshly ground black pepper

1/2

tsp.

garlic powder

2-3

tbsp.

poppy seeds

1

tbsp.

canola oil

1

deep dish pie pan
Instructions
Preheat oven to 375 degrees.

Brush bottom and sides of pie pan with canola oil. Take one pie crust from refrigerator and make sure it is soft and pliable. Gently mold pie crust into pie pan and up the sides. You will also use the second pie crust (keep in refrigerator until ready to use), so take your time and work slowly, careful not to stretch the crust too thin. When you are ready to use the second crust, remove it from the refrigerator and fill the rest of the pie pan and remainder of the sides.

Trim any excess crust and brush bottom and inner sides of crust with one beaten egg white. Bake for 8 minutes until light brown. Remove from oven and set aside.

While crust is baking and cooling, microwave frozen spinach. Remove spinach from packages and place in microwave safe bowl. Cover with a half cup of water and a paper towel and microwave on high heat for 8 minutes. You may need to cook for a few additional minutes if necessary. Remove from microwave and thoroughly squeeze out excess water. Be extremely thorough in getting out as much water as you can.

Place spinach in a medium mixing bowl and add cream cheese, egg, salt, pepper and garlic powder and combine with hands.

Place mixture in pie crust and smooth with spatula. Take remaining thawed pie crusts and repeat process to cover the top of the pie thoroughly with the crusts. Crimp the edges using fingers or with a fork.

Cut 8 - 10 slits in the crust with a knife and brush the crust with the remaining egg white. Generously sprinkle the top of the crust with the poppy seeds (you can use more or less, depending upon your taste--I literally cover the top of my crust with them).

Bake for 45 minutes to 1 hour, until pie is very brown on top.
…The Backstory continues: You know how everybody's family has a recipe here and recipe there that one specific person brings to this holiday or that? You know–you're having a party or it's Rosh Hashanah and you're busy planning, writing your list and without even picking up the phone to check to see it's okay, you say to yourself that so-and-so will bring X., Spinach pie is our X and Phyllis Baron, my mother-in-law is its maker. It's just understood. 
Getting the recipe from my mother-in-law (Mom, to me) was a comedy in and of itself. Mom was born and raised a few blocks from my own mom. Yes, that would be Brooklyn, East Flatbush area to be specific. Both moms speak in a very unique (and shall we say, special?) way. Sometimes with punctuation, sometimes without. It's anyone's guess, really, and sometimes, there aren't words, there are just gestures. We have shared some of the world's greatest laughs, just trying to understand each other and not get arrested in public. We laugh that hard. It's fabulous. Everyone should experience those kinds of laughs at least once a day.
So when I sat down with her just a few hours before writing this entry and attempted to get the recipe down on paper, you can imagine the chaos that ensued. There were some measurements, but only some. And yes, there were some instructions (and a very funny bit about what to do with the pie crust and how to make it fit the deep dish pie pan, OMG, don't ask), and in the end I decided that I would have to make it myself just to be safe. It's not that I didn't eventually get all the information (eventually) but it really would have been helpful, for example, to know that I was supposed to brush the inside of the pie crust with  egg white before putting the filling in and baking the pie for 45 minutes, before I got to the end of the recipe. Things like that. Halfway through this comedy of errors,
I was holding my sides, laughing and my husband was shaking his head. It was perfect.
The best part?  Somehow, not 30 minutes later, my husband and I sat looking at photo albums of my husband's late grandmother, great grandmother, great-great grandmother, (now we're into Russian territory). Rob's grandmother was my mother-in-law's mother. The three of them look almost exactly alike. There is such a connection there.  The point is that what started out as a conversation about a spinach pie, ended up with a big fat photo album going back a hundred plus years, many of the albums had notes in his grandmothers' writing, plus photos of my beautiful mother-in-law as a little girl (on the very steps of the apartment building where she grew up–see inset) and somehow the spinach pie really mattered. Because all of this matters–it's about passing down stories about food and family and what came before.
Which is the whole point entirely.
Please follow and like us: