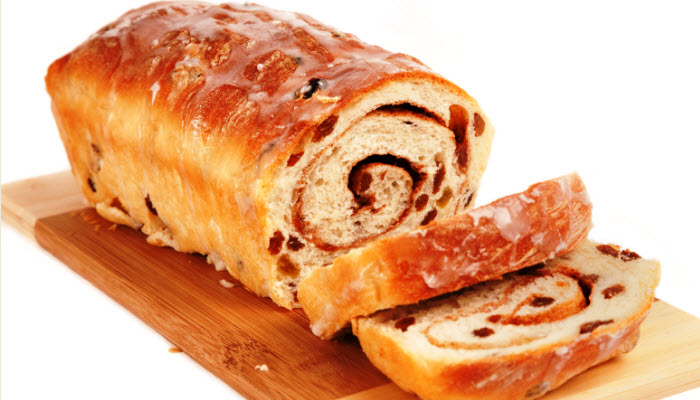 Iced Cinnamon Raisin Bread
Jodi's dad's favorite bread and for this reason, one of our top picks.
The Backstory: Cinnamon Raisin Bread is the very first thing I ever baked in order to (try to) impress my dad, the world's best bagel maker. As many of you know,  my father owned a bagel bakery in Brooklyn, New York and I literally grew up in his store, working the register, stocking refrigerator shelves, serving customers, and basically watching my dad doing what he did best–make bagels by hand. Getting high praise from him for anything was always easy (I was Daddy's girl, after all), but I wanted it for something I had actually earned that I knew he would appreciate–handmade bread, pastries, cakes, pies, baked goods–the real stuff–that I knew that he could really assess and appreciate. I would not let him just give it to me for the sake of giving it to me for being his daughter. Okay, maybe sometimes. More of the Backstory after the recipe…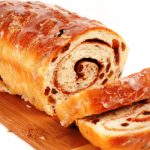 Iced Cinnamon Raisin Bread
Soft on the inside, chewy on the outside, and perfectly sweet and sticky on top, this cinnamon raisin loaf is worth the time it takes for the loaves to go through a double rise. Serve it sliced for toast, by itself with butter and preserves, or use it for french toast for a delicious brunch main course.
Total Time
2
hours
35
minutes
Ingredients
Dough
6

cups

all-purpose flour

may need an additional 1/2 cup

1/2

cup

sugar

2

tsp.

Kosher salt

2

packages

active dry yeast

2

cups

very warm water

120 - 130 degrees

1/2

cup

vegetable oil

1

cup

raisins

1/2

cup

sugar

1

tbsp.

ground cinnamon

vegetable oil

softened butter
For the Icing
1

cup

confectioner's sugar

1/4

tsp.

vanilla

2

tbsp.

milk
Instructions
Mix 3 cups of the flour, 1/2 cups of sugar, the salt and yeast in a large bowl. Add water, 1/4 cup oil and the eggs. Beat on low speed for 1 minute, scraping bowl frequently.

Beat on medium speed for 1 minute, scraping bowl frequently. Stir in raisins and enough remaining flour to make dough easy to handle.

Turn dough onto lightly floured surface and knead 8-10 minutes until elastic and smooth.

Place dough in greased bowl and turn greased side up. Cover and let rise in warm place about an hour or until double in size. In the meantime, grease 2 loaf pans 9 x 5 x 3 inches.

Mix 1/2 cup sugar and cinnamon. Set aside. Punch down dough and divide in half. Flatten each half with hands or rolling pin and flatten into rectangle, about 18 x 9 inches.

Brush with oil and sprinkle with half of the cinnamon mixture. Roll up tightly, beginning on 9 inch side. Press each end with side of hand to seal and fold ends under loaf. Place loaf, seam side down in pan and brush with oil. Repeat with other half of dough. Let each loaf rise in pan about one hour until double in size.

Heat oven to 375 and bake 30-35 minutes until loaves are deep golden brown and sound hollow when tapped. Remove from pans and brush with butter. Cool on wire racks.

To make glaze: mix 1 cup confectioner's sugar with 1/4 teaspoon vanilla and 2 tablespoons of milk. Add more milk as needed to get the consistency you like. Drizzle over warm loaves.
…The Backstory continues: Over the years I made cakes and pies and breads and bars and challah french toast platters. I made cheesecakes and chocolate layer cakes and orange rice pudding. I whipped up chocolate mousse and homemade marshmallows and caramel and chocolate covered  matzoh. And my dad gave me feedback on all of these dishes, kvelling over the show stoppers, pretending to enjoy the few he wasn't thrilled about (that was the year I discovered butternut squash soup which is truly delicious but my father never met a vegetable other than a potato that he respected).
And I am proud to admit that he devoured just about everything I ever baked for him and that while I'm hard-pressed to accept a compliment for just about anything, I've finally accepted that I've inherited some of my dad's baking skills. My father had a true gift when sniffing out exactly what went into a recipe and what was missing. He could tell when something had a little to much time to rise or when it needed even a smidgen more salt. He knew when chocolate should be a tad more on the bitter side or when water should have been warmer before hitting the yeast. It was uncanny.
But no matter what I offered to bake or cook for him, the one recipe he asked for time and time again was this one. Cinnamon Raisin Bread. "You could make me a raisin bread…" he would say (as if mothers cornered the market on Jewish guilt) when I'd ask what I could have on hand whenever he and my mom would make the trek from Florida to Boston. And I would immediately rush to my pantry to check the date on my yeast and start counting backwards from when I would start so it would be ready when he arrived.
And now I give it to you. Because my dad would want me to.
Please follow and like us: