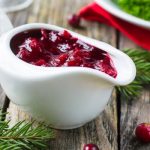 Perfect Cranberry Sauce
Rich, sweet cranberry sauce cooks up in just under fifteen minutes and gets a twist of citrus from orange zest added during the last few minutes of cooking.
Combine sugar and water in a medium saucepan. Bring to a boil.

Add cranberries and return to a boil.

Reduce heat and continue to cook for 10 minutes, stirring occasionally. Add orange zest during last five minutes of cooking.

Remove from heat and cover to prevent skin from forming. Chill completely before serving and store in refrigerator until serving.
Variations: You can replace the orange zest with lemon zest if you prefer a more tangy taste to your cranberry sauce (or remove it completely, for a more traditional taste).
You can also add a cinnamon stick during the last five to ten minutes of cooking for a delicious and rich cinnamon flavor.