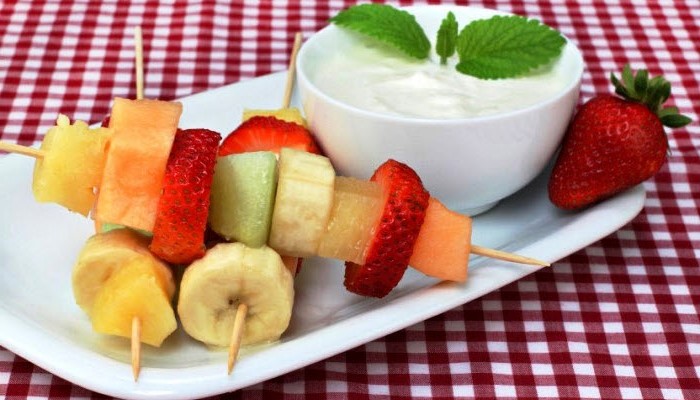 Fruit Kebabs with Yogurt-Honey Dip
Sweet fresh fruit kebabs and a creamy dip make for a fun, fresh and delicious party appetizer.
The Backstory: Fruit plates, fruit platters and fruit bowls have come a long, long way since our grandmothers scooped out half a watermelon and filled it with cantaloupe, watermelon, and honeydew balls (still a good way to go, in my opinion), and no matter what else lands on the buffet table, fruit is always one of the first things to go. More of the Backstory after the recipe…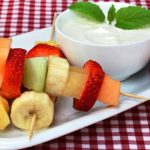 Fruit Kebabs with Honey Yogurt Dip
Sweet and juicy fruit kebabs get a kick of sweetness with a yogurt-honey dip. This recipe is perfect for a barbeque, backyard summer or spring party or Sunday brunch. It's also great way to get the kids excited about fruit.
Ingredients
For the Kebabs
1

large

cantaloupe melon

seeds removed, cut into large chunks

1

quart

strawberries

washes, stems removed, and halved or slicrf

3

bananas

peeled, cut into large chunks

1

large

honeydew melon

seeds removed, cut into large chunks

1

fresh pineapple

peeled, cored, cut into large chunks

16

wooded skewers

1

mint sprig
For the Dip
2

cups

vanilla yogurt

1/2

cup

honey
Instructions
For the Kebabs
Prepare the fruit as directed above. Thread chunks of fruit onto each skewer leaving about one inch on each end for handling.

Arrange skewers nicely on a platter. If preparing a large amount at a time, lay the skewers artfully in a single row and then alternate direction with the next layer for a nice look.
For the Dip
Mix the yogurt and honey together and pour into a small bow. Place bowl next to the skewers and add a sprig of mint (if desired) for garnish. Chill until ready to serve.
Recipe Notes
If making ahead, prepare the skewers and store on a flat platter, wrapped in plastic wrap. Store yogurt-honey dip in an airtight container. Garnish with mint before serving. Keep both items refrigerated until serving.
…The Backstory continues: I'm not sure if it's because so many of us are always counting calories or because fruit always makes our already full plates seem slightly less guilty (just how bad can three latkes really be next to this nice pile of pineapple?), but no matter the reason, "bringing the fruit" to a family get together is just as important as the kugel and the bagels. Okay, maybe not in that order.
When I have the time, and especially in summer months when there's so much good stuff to choose from, I like to make fruit kebabs and pair them with a light yogurt-honey dip. It's simple, healthy, and does double duty: I can hold some of the yogurt aside for breakfast during the week (I have two pretty good yogurt eaters in my house) and the small addition of honey to the vanilla yogurt really gives it a nice, mellow smoothness. Also, the recipe is easy enough to scale up for a large crowd or, as pictured here, for a simple snack for the kids.
Most of the time, my family prefers Greek yogurt for breakfast and I make yogurt parfaits with granola and fresh berries most mornings during the week. But for this recipe, I stick with regular (non-Greek) yogurt. I find the less-tart flavor pairs better with the fruit, but certainly feel free to experiment to suit your own tastes. Many people make this recipe with a touch of cinnamon but I'm not one of them. Just yogurt and honey, plain and simple.
Another bonus for this recipe is that both the kebabs and the dip can be made a day ahead and store beautifully in the fridge. As with all dairy items, once you serve the dip, discard it after it has been sitting out on the table for more than two hours.
Enjoy!
Please follow and like us: